Anticellulite Creams – Methods Available to Combat Cellulite
|
cellulite is the appearance of dimpled skin that many women find on their hips, buttocks, thighs and abdomen. It is most commonly seen in women, but men can suffer with cellulite as well. It is caused by unevenness in the fatty deposits beneath the surface of the skin. While it is not a harmful, it is unsightly and makes many women feel self-conscious about their appearance. Most women turn to anticellulite creams to help combat the problem and get themselves back into a favorite pair of shorts or swim suit. There are other treatments that can be used alone or in combination with anticellulite creams, such as diet exercise and massage.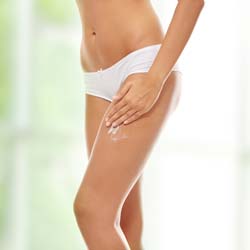 Less severe cases of cellulite can be seen when someone pinches their skin and in more severe cases the skin show rippling and a cottage cheese appearance as all times. It estimated that about 80 percent of women have some degree of cellulite on their bodies. The condition is more common as a person ages, so older women are more likely to have the severe cases of cellulite. Other risk factors for cellulite include heredity, stress, sedentary lifestyle and the use of oral contraceptives. While being overweight may make cellulite more noticeable, women of any weight can have cellulite and need to explore options in best anti cellulite creams that works.
Probably the most effective way to reduce cellulite and keep the skin looking smooth and firm is through diet and exercise. While the cellulite will not completely disappear it can be reduced and using one of the Anticellulite Creams on the market that contain 0.3 percent retinol has shown to be effective. The combination of exercise, diet and anticellulite creams can greatly reduce the appearance of stubborn cellulite under the skin. This is also the safest method as more invasive measures also come with an increased risk of complications.
Liposuction and laser procedure are also available, but require several treatments, are quite costly and give short-term results. Liposuction does not eliminate cellulite, but it does help reshape the area and give it a better appearance. Laser procedures are the most promising at this time, as they can penetrate deeper into the skin to massage the fat deposits. Whether you choose to use anticellulite creams or other methods, remember none of these are miracle treatments for cellulite. If choose to use one of the many anticellulite creams on the market, try combining it with exercise and diet to get the best results.
Not all cellulite treatments are created equally, and it is important to evaluate the potential of a product prior to purchasing it. A quality cellulite treatment must be formulated from compounds that are capable of actually penetrating deep enough into layers of skin to deliver the active ingredients to the cells that they need to affect in order to create noticeable results. Additionally, the stated active compounds should actually be capable of reducing cellulite; such ingredients should be able to minimize pockets of fat, which should in turn reduce the appearance of cellulite. Finally, a cellulite cream's ingredients must all be of the highest quality and should contain compounds that can work to tighten and smooth skin in order to combat the drying effect of cellulite. Below you'll find some of the top cellulite creams, as well as ratings evaluating how well each of these creams meets these standards of quality.
Top 10 Cellulite Creams Product
CelluTherm

Ability to Deliver Active Ingredients
Potential to Reduce Appearance of Cellulite
Ability to Tighten and Smooth Skin
Quality of Ingredients

Cellulean

Ability to Deliver Active Ingredients
Potential to Reduce Appearance of Cellulite
Ability to Tighten and Smooth Skin
Quality of Ingredients

RevitaShape

Ability to Deliver Active Ingredients
Potential to Reduce Appearance of Cellulite
Ability to Tighten and Smooth Skin
Quality of Ingredients

Revitol Cellulite Solution

Ability to Deliver Active Ingredients
Potential to Reduce Appearance of Cellulite
Ability to Tighten and Smooth Skin
Quality of Ingredients

Murad Firm and Tone Serum

Ability to Deliver Active Ingredients
Potential to Reduce Appearance of Cellulite
Ability to Tighten and Smooth Skin
Quality of Ingredients

Nivea Good-bye Cellulite

Ability to Deliver Active Ingredients
Potential to Reduce Appearance of Cellulite
Ability to Tighten and Smooth Skin
Quality of Ingredients

Rodial

Ability to Deliver Active Ingredients
Potential to Reduce Appearance of Cellulite
Ability to Tighten and Smooth Skin
Quality of Ingredients

Oligo Dx

Ability to Deliver Active Ingredients
Potential to Reduce Appearance of Cellulite
Ability to Tighten and Smooth Skin
Quality of Ingredients

Fatgirl Slim

Ability to Deliver Active Ingredients
Potential to Reduce Appearance of Cellulite
Ability to Tighten and Smooth Skin
Quality of Ingredients

Cellutone

Ability to Deliver Active Ingredients
Potential to Reduce Appearance of Cellulite
Ability to Tighten and Smooth Skin
Quality of Ingredients