Clinique Overview
Clinique Daily Eye Benefits can be used for all skin types. It helps restore firmness, reduce puffiness, while lessening the dryness with the soothing invisible cream.Since the eye area is non fatty and almost transparent, the blood vessels tend to collect and become more obvious. Over time the elasticity of skin decreases, causing it to stretch, and become less firm. Special skin care moisturizing creams like this one help to rejuvenate and repair damage creating a more youthful appearance.
Clinique - Product Description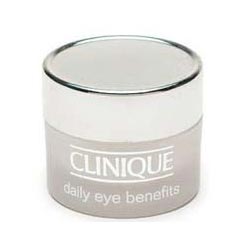 Clinique Daily Eye Benefits is a new daily eye cream that has been allergy tested and is 100% fragrance free. This non greasy formula firms the eye area, smoothes and soothes for a refreshed renewed appearance. This is ideal for someone to use right before bed to look refreshed and awake by morning. The eye creams are Ophthalmologist tested for the customer's safety. The test involves reporting any sensitivity or irritation, burning or stinging, while applying twice a day, and examination of the contact lenses after four weeks. Clinique offers a skin test on their web site to see if a product will be right for your skin type. This dermatologist developed set of eight questions will help determine your skin type and tone to better choose products from Clinique. The results will reveal which products will work best for your type of skin. You may need to update occasionally due to changes in your skin, the weather, climate, age, hormones, the seasons, or as your needs change.
Clinique Advantage
It softens the skin while soothing, creating a natural beautiful eye.
The daily eye treatment is perfect for all skin types.
The cream reduces puffiness and tones down redness around eyes, especially if you have been crying.
This product is thicker than most eye creams, making it ideal for at night application.
The ingredients are fragrance free and allergy tested.
Clinique products are non-acnegenic so they do not cause breakouts or clog pores.
This is an Ophthalmologist tested product.
Using the cream is safe for contact wearing individuals.
There was no animal testing of this product done.
Clinique - Drawbacks
The active ingredient list is only if requested.
The web site is very vague on this apparently newer product.
They do not talk about what ingredients are involved in making this product great.
There is no explanation of HOW it works.
A 0.5 ounce jar is $34.00.
This Clinique Daily Eye Benefits product is available at fine Clinique counters and on line.
Clinique - The Bottomline
Since darkness under the eyes can be caused by heredity, and lack of sleep, the thinning of the skin makes the blood vessels more visible. Using a concealer is only a short term disguise to the problem. Using Clinique Daily Eye Benefit is a better way to help remedy the darkness. This cream can be used by all skin types twice daily for control and maintenance of puffiness, dark circles, redness, and dryness around the eye area.
Purchasing an eye cream is a fairly committed decision, since each container of these products tends to last for a fairly substantial period of time. Therefore, eye creams must be evaluated on their ability to deliver a number of desired results. For example, in addition to being affordable, an ideal eye cream must be able to reduce the depth, length, and surface area of wrinkles, crow's feet, and other fine lines. At the same time, an eye cream should also offer relief from puffiness and dark under-eye circles, helping individuals appear refreshed and well rested on a daily basis. Finally, an eye cream should also contain quality ingredients that provide much needed nourishment in the form of hydration to skin cells; such hydration can help delay the onset of wrinkles in the first place. Below, we've evaluated the ability of several of the top eye cream products to deliver these important benefits.