Garnier Nutritioniste Overview
Garnier Nutritioniste Regenerating Eye Cream is a daily-use cream that targets under-eye dark circles and puffiness. The product's page addresses the fact that there is already a wealth of options in the marketplace for this type of cream by stating that their cream is different, as it contains Vitamin C, Magnesium and Lycopene. The cream is part of a "daily regenerating regime" that also includes an all-over facial moisturiser, an overnight cream and a regenerating serum.
Compared to L'Oreal's Eye Defense page, Garnier Nutritioniste information is varied and well laid-out, providing basic information on its principal ingredients and an informative, animated video narrated by a dermatologist and illustrating the basic properties of the cream. There are no testimonials listed, and no information on clinical trials, which is disappointing given Garnier's reputation as being more scientifically-minded than its competitors.
The site does promise instant skin brightening and "energising" within minutes of using the cream, with noticeable reduction of fine lines and wrinkles within 3 weeks and dark circles after "continued use", which is vague considering the latter is one of the cream's two main purposes. The site offers a product advisor, and like other large companies, can be contacted easily.
Garnier Nutritioniste - Product Description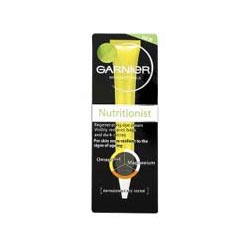 The cream's three active ingredients are Vitamin C, which tones the skin by promoting surface skin cell regeneration; Magnesium, which energises and moisturizes the skin, and Lycopene, an antioxidant that protects the skin against environmental damage. Aside from this however, no other ingredients are listed, including which ingredient, if any, actually combats the under-eye circles.
The site's blurb does state, as company standard, that the cream is dermatologically and opthalmologically tested, which is good news for those with sensitive eyes or contact lens wearers. The cream is also 100% oil-free (non-greasy), allergy-tested and can even be used on sensitive skin.
The product cannot be bought from Garnier's website, but the site lists 6 drugstores which sell it in 1.7oz tubes, including CVS.com and Walgreens.com, who both retail it at $12.99. With this in mind, the company offers neither a free trial nor a money-back guarantee, so this is left up to the vendors themselves.
Garnier Nutritioniste Advantage
Trusted brand
Relatively low price
Protects and moisturises
Positive online reviews
Garnier Nutritioniste - Drawbacks
No information on clinical trials
No comprehensive list of ingredients or hard scientific facts
Garnier Nutritioniste - The Bottomline
Garnier Nutritioniste does provide a small amount of information regarding the effectiveness of the cream, but having established a reputation as a scientific/laboratory-centred company, more scientific facts on even just the active ingredients or a projection of expected results should have been used as a deciding factor rather than just relying on brand loyalty/recognition. Given that the cream is supposed to target dark circles, the promise of "even dark circles" diminishing with "continued use" is too vague. While there have been mostly positive online reviews, there is no manufacturer's guarantee that the product will work, but $12.99 for a 1.7oz tube is a price that may divide potential customers on whether or not to give it a try.
Purchasing an eye cream is a fairly committed decision, since each container of these products tends to last for a fairly substantial period of time. Therefore, eye creams must be evaluated on their ability to deliver a number of desired results. For example, in addition to being affordable, an ideal eye cream must be able to reduce the depth, length, and surface area of wrinkles, crow's feet, and other fine lines. At the same time, an eye cream should also offer relief from puffiness and dark under-eye circles, helping individuals appear refreshed and well rested on a daily basis. Finally, an eye cream should also contain quality ingredients that provide much needed nourishment in the form of hydration to skin cells; such hydration can help delay the onset of wrinkles in the first place. Below, we've evaluated the ability of several of the top eye cream products to deliver these important benefits.