Glycolix Elite Eye Serum Overview
Glycolix Elite Eye Serum is a specially formulated light nourishing serum that delivers moisturizing benefits of Hyaluronic Acid, resulting in smoother and softer under eye skin, and less under eye dark circles. 
With Glycolix skin care, you can build up to a high level of Glycolix Acid without any irritation or damage.
Glycolix Elite Eye Serum was developed by Topix Pharmaceuticals, a company with over twenty years of creating skin care solutions for Dermatologists and their patients.  They deliver quality, innovation, and reliability with their products to advance the science of healthy beautiful skin.  They utilize the most advanced and effective anti aging ingredients with unique and custom formulations, that make it ideal to mix and match for the most perfect beauty routine.
Glycolix Elite Eye Serum - Product Description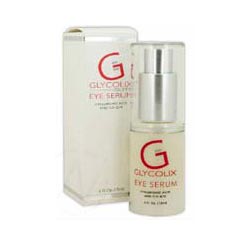 The Glycolix Elite Eye Serum utilizes a rich blend of antioxidants including Vitamin A, C, and E, Green Tea Extract and CoCQ10.  Together these ingredients minimize free radical skin damage and help in repairing and restoring healthy looking skin, as well as under eye dark circles in the aging eye.
Glycolix Elite products are formulated with ultra-pure crystalline, non buffered Glycolic Acid to exfoliate the outer most layer of skin, and to deeply moisturize.  All of the Glycolix product line include creams and lotions to remove dead skin cells to reveal soft, smooth, clear skin.
While this product is a perfectly fine eye treatment, it can also be used on the lips where the water retaining properties in Hyaloronic Acid can make your lips look and feel plumper too.  Or it can be used after a Botox treatment as well.
All at home products with Glycolic Acid are formulated with Cosmetic Grade Crystalline of Glycolic Acid with a 4 pH.  This is close to the natural level of pH of the skin so it will not burn or sting.
This eye product can be used once or twice a day.
Glycolix Elite Eye Serum Advantage
It has a gel like consistency that leaves the eye area smooth and silky.
The ingredients include antioxidants, Vitamins E, A, and C, Green Tea, and Hyaluronic Acid.
It is specially designed for the delicate areas under the eyes.
The price is right around $25.00 or less.
This eye serum can be used at night as a treatment while you sleep.
This product will hydrate throughout the day resulting in smoother, softer skin.
Glycolix Elite Eye Serum - Drawbacks
The eye cream is really thick and takes a little while to soak in and absorb.
It may cause irritation around the eye area.
Glycolix Elite Eye Serum - The Bottomline
Glycolix Elite Eye Serum has the right combination of ingredients to fight aging with a free radical and antioxidant formula especially made for everyday usage.  It promises to help soften existing under eye lines and dark circles gently without any burning or irritation.
The price is an affordable way to receive this Glycolix Acid treatment from a company who brings the most advanced and effective anti aging products available to try at home.
Purchasing an eye cream is a fairly committed decision, since each container of these products tends to last for a fairly substantial period of time. Therefore, eye creams must be evaluated on their ability to deliver a number of desired results. For example, in addition to being affordable, an ideal eye cream must be able to reduce the depth, length, and surface area of wrinkles, crow's feet, and other fine lines. At the same time, an eye cream should also offer relief from puffiness and dark under-eye circles, helping individuals appear refreshed and well rested on a daily basis. Finally, an eye cream should also contain quality ingredients that provide much needed nourishment in the form of hydration to skin cells; such hydration can help delay the onset of wrinkles in the first place. Below, we've evaluated the ability of several of the top eye cream products to deliver these important benefits.