Want to try that cozy body wrap to get rid of your cellulite? It can take inches off from your waist, thighs, and hips within no time at all. And most importantly, it will level up that ugly dimpling sooner than you may have bargained for!
What is Body Wrapping?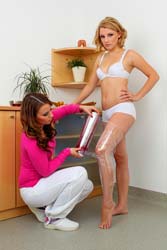 Body wrapping is the use of a special linen wrap that you can put into use for a variety of purposes. The providers promise to make you loose inches within an unbelievably short period of time. A wrap can also be used without any need for applying any cream, gel or lotion on your skin. Nevertheless, your Cellulite wrap is likely to be more effective if you use it in conjunction with one or the other of these items.
Body wrapping is not a new processed as being opined in some circles. It has been there for years helping people to tighten their skin, ease their eczema and drive their toxins away from their systems, apart from getting leaner and thinner.
You will easily find a number of salons and spas mushrooming in your city offering this body wrapping service at bargain prices. When you inquire about the quality of the service they will assure you that your extra inches will be gone within the hour. Since you are the one having the problem, you tend to believe him with extra optimism.
Anti-Cellulite Wraps
The package offered for treatment of your cellulite will be marked by such a straightforward confidence that you will feel absolutely delighted. Calling your cellulite as a waterlogged-fatty-tissue problem, the vendors will promise to throw the fluids from the body thereby effortlessly leveling the horrid looking dimpling.
Although you can use a cellulite wrap with or without applying cellulite creams, gels or lotions. Some providers, however, prefer to make you use the Cellulite wrap after applying cellulite cream/gel/lotion or, soaked it in an anti-cellulite solution.
Major Features of the Anti-Cellulite Wraps
Prominent features of a cellulite body wrap are:
The body wrap can be made out of linen, rubber or plastic materials.
The cellulite wrap can be employed to envelope your waist only, or the waist, thighs and hips together, or even your entire body.
The cellulite wrap can be worn when you are doing your workouts, or while you are engaged in your routine activities, or even when you are sleeping.
The wrap can be inflated through any available means – a vacuum cleaner or by using a hair dryer as well.
The cost of usage per hour can start from $40 or so.
The only risk factor centers on too much perspiration – causing fluid loss – that can lead to serous serious dehydration problems in your body.
There are people who feel that the basic methodology employed to reduce the weight, fats or cellulite is the cause for generating extra perspiration in the body. Once the perspiration settles down, the fluids invariably return and so also the cellulite. Whether there is some truth in this criticism – or in the claims put forward by the vendors – you should make a serious effort to assess the efficacy of the cellulite wrap yourself before deciding to persist with the process.
Not all cellulite treatments are created equally, and it is important to evaluate the potential of a product prior to purchasing it. A quality cellulite treatment must be formulated from compounds that are capable of actually penetrating deep enough into layers of skin to deliver the active ingredients to the cells that they need to affect in order to create noticeable results. Additionally, the stated active compounds should actually be capable of reducing cellulite; such ingredients should be able to minimize pockets of fat, which should in turn reduce the appearance of cellulite. Finally, a cellulite cream's ingredients must all be of the highest quality and should contain compounds that can work to tighten and smooth skin in order to combat the drying effect of cellulite. Below you'll find some of the top cellulite creams, as well as ratings evaluating how well each of these creams meets these standards of quality.