Mesotherapy: What can it do for Cellulite?
|
Cellulite is a problem for basically everyone over the age of 16. Everyone feels embarrassed by it, but people don't realize that if everyone, men and women like have cellulite, then there isn't really a reason to be ashamed of it. Some people do have it worse than others, but there are a variety of treatments available that will help to reduce unsightly cellulite. Plastic surgery has become a routine procedure in North America, and many people use it for a lot of different reasons. Some need to have reconstructive work done after a car accident or fall, and some people get plastic surgery to augment or re-shape certain part of their body that they don't like. Many people still get a bit apprehensive when they hear the words "plastic surgery" even though it has become very popular. This type of surgery has been around for quite a few years now, and many new procedures have been made available to the public through plastic surgery. True, there are risks to having work done, but there are risks to any type of surgery, and all surgical procedures have been made as safe as possible.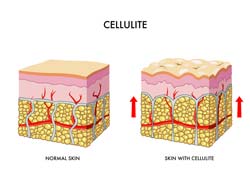 Mesotherapy is a new Cellulite Removal procedure that falls under the umbrella of plastic surgery, but it is technically not surgery at all. Mesotherapy comes in the form of injection and it is a great alternative to liposuction when it comes to getting rid of cellulite. It has been around for a long time in other parts of the world, such as Europe and some countries in South America.
Basically, Mesotherapy patients receive a series of small injections that break down fat cells. These injections include some natural ingredients, such as phosphatidylcholine, which your fat cells already contain. When your fat cells get injected, this ingredient becomes inflamed and disrupted, and the fat disbands and gets carried away. If your cellulite is not too severe, you should see visible results soon after receiving these injections, and in a few cases, the cellulite never returns.
You may also have some localized fat (bulges of fat) that you want removed along with your cellulite, and Mesotherapy injections can take care of that as well. Liposuction is usually the procedure for localized fat, but if it is not too bad, Mesotherapy is a good alternative because it does not require anesthesia or sedation and it is not very painful. Most people report that the injections feel more like a small annoyance than anything, and recovery side effects aren't too bad as well. Side effects are usually some redness, swelling and burning and they only last 1 – 3 days.
I highly recommend Mesotherapy as an alternative to Liposuction. It is not as invasive and expensive as Lipo and many people prefer it. Mesotherapy sessions usually cost between $200 and $600, and only 2 or 3 sessions are needed to achieve lasting results. Because of the side effects, you should wait at least 6 weeks between sessions though, because if you go back too soon those side effects will get a lot worse.
Not all cellulite treatments are created equally, and it is important to evaluate the potential of a product prior to purchasing it. A quality cellulite treatment must be formulated from compounds that are capable of actually penetrating deep enough into layers of skin to deliver the active ingredients to the cells that they need to affect in order to create noticeable results. Additionally, the stated active compounds should actually be capable of reducing cellulite; such ingredients should be able to minimize pockets of fat, which should in turn reduce the appearance of cellulite. Finally, a cellulite cream's ingredients must all be of the highest quality and should contain compounds that can work to tighten and smooth skin in order to combat the drying effect of cellulite. Below you'll find some of the top cellulite creams, as well as ratings evaluating how well each of these creams meets these standards of quality.
Top 10 Cellulite Creams Product
CelluTherm

Ability to Deliver Active Ingredients
Potential to Reduce Appearance of Cellulite
Ability to Tighten and Smooth Skin
Quality of Ingredients

Cellulean

Ability to Deliver Active Ingredients
Potential to Reduce Appearance of Cellulite
Ability to Tighten and Smooth Skin
Quality of Ingredients

RevitaShape

Ability to Deliver Active Ingredients
Potential to Reduce Appearance of Cellulite
Ability to Tighten and Smooth Skin
Quality of Ingredients

Revitol Cellulite Solution

Ability to Deliver Active Ingredients
Potential to Reduce Appearance of Cellulite
Ability to Tighten and Smooth Skin
Quality of Ingredients

Murad Firm and Tone Serum

Ability to Deliver Active Ingredients
Potential to Reduce Appearance of Cellulite
Ability to Tighten and Smooth Skin
Quality of Ingredients

Nivea Good-bye Cellulite

Ability to Deliver Active Ingredients
Potential to Reduce Appearance of Cellulite
Ability to Tighten and Smooth Skin
Quality of Ingredients

Rodial

Ability to Deliver Active Ingredients
Potential to Reduce Appearance of Cellulite
Ability to Tighten and Smooth Skin
Quality of Ingredients

Oligo Dx

Ability to Deliver Active Ingredients
Potential to Reduce Appearance of Cellulite
Ability to Tighten and Smooth Skin
Quality of Ingredients

Fatgirl Slim

Ability to Deliver Active Ingredients
Potential to Reduce Appearance of Cellulite
Ability to Tighten and Smooth Skin
Quality of Ingredients

Cellutone

Ability to Deliver Active Ingredients
Potential to Reduce Appearance of Cellulite
Ability to Tighten and Smooth Skin
Quality of Ingredients