Revolutionary New Cellulite Treatment
|
Cellulite has been the nemesis of women for ages, and it affects about 85 percent of women in the world. We agonize over the appearance of our skin, and we spend just as much time trying to find a miracle cure for our cellulite. However, no matter how hard we try, we can't seem to get rid of our orange peel skin, also known as the cottage cheese look. There are a lot of different cellulite "cures" out there, but sadly, not many of them actually do what they promise to do.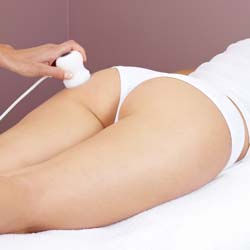 Researchers are always working hard to find better ways to get rid of cellulite however, and every now and again they come out with a new technique that works better than the rest. Recently, researchers have found another one of these methods that really does work well to reduce the appearance of the unwanted, fatty skin. This new Cellulite Removal Method comes in the form of a non invasive machine called Smooth Shapes.
This revolutionary new cellulite treatment has proven itself to work quite effectively to reduce the look of cellulite on any area of the body. Smooth Shapes is a machine that almost looks like a small vacuum or an iron, and it actually looks like you are ironing your skin when it is used. It works by taking the small attachment and rubbing it over the affected area of skin for about 30 minutes at a time. (Like ironing!) The Photomology technology inside the Smooth Shapes machine works to combine the dynamic laser and light energy together to eliminate the layer of cellulite that is resting just under the skin, where the body can't burn it off naturally. The Photomology technology also works to restore good skin cells to prevent more cellulite from working its way back under the skin.
It takes about 8 sessions, 30 minutes each to achieve the best results, and it is usually better to have these sessions 2 times a week. Altogether, 8 sessions costs about $1000 to $2000 per body part, but prices depend on what part of the country you live in, as costs vary by state. After the initial 8 sessions, you will only have to go back for smaller, maintenance sessions once every 6 months or so, and you will never have to start all over again, as the effects last a long time. As long as you keep up your maintenance sessions, you can keep a nice, smooth look where you once had the fatty, cellulite look.
The Smooth Shapes Cellulite Treatment may seem expensive to a lot of people, but when you consider the alternatives, which are cellulite creams that do not really work, and even more expensive and risky plastic surgery procedures, the Smooth Shapes treatment may just be worth it. After all, the first initial 8 sessions are the most expensive, and after that you just have to pay for one every 6 months or so. The Smooth Shapes cellulite treatment is worth the money spent, in my opinion.
Not all cellulite treatments are created equally, and it is important to evaluate the potential of a product prior to purchasing it. A quality cellulite treatment must be formulated from compounds that are capable of actually penetrating deep enough into layers of skin to deliver the active ingredients to the cells that they need to affect in order to create noticeable results. Additionally, the stated active compounds should actually be capable of reducing cellulite; such ingredients should be able to minimize pockets of fat, which should in turn reduce the appearance of cellulite. Finally, a cellulite cream's ingredients must all be of the highest quality and should contain compounds that can work to tighten and smooth skin in order to combat the drying effect of cellulite. Below you'll find some of the top cellulite creams, as well as ratings evaluating how well each of these creams meets these standards of quality.
Top 10 Cellulite Creams Product
CelluTherm

Ability to Deliver Active Ingredients
Potential to Reduce Appearance of Cellulite
Ability to Tighten and Smooth Skin
Quality of Ingredients

Cellulean

Ability to Deliver Active Ingredients
Potential to Reduce Appearance of Cellulite
Ability to Tighten and Smooth Skin
Quality of Ingredients

RevitaShape

Ability to Deliver Active Ingredients
Potential to Reduce Appearance of Cellulite
Ability to Tighten and Smooth Skin
Quality of Ingredients

Revitol Cellulite Solution

Ability to Deliver Active Ingredients
Potential to Reduce Appearance of Cellulite
Ability to Tighten and Smooth Skin
Quality of Ingredients

Murad Firm and Tone Serum

Ability to Deliver Active Ingredients
Potential to Reduce Appearance of Cellulite
Ability to Tighten and Smooth Skin
Quality of Ingredients

Nivea Good-bye Cellulite

Ability to Deliver Active Ingredients
Potential to Reduce Appearance of Cellulite
Ability to Tighten and Smooth Skin
Quality of Ingredients

Rodial

Ability to Deliver Active Ingredients
Potential to Reduce Appearance of Cellulite
Ability to Tighten and Smooth Skin
Quality of Ingredients

Oligo Dx

Ability to Deliver Active Ingredients
Potential to Reduce Appearance of Cellulite
Ability to Tighten and Smooth Skin
Quality of Ingredients

Fatgirl Slim

Ability to Deliver Active Ingredients
Potential to Reduce Appearance of Cellulite
Ability to Tighten and Smooth Skin
Quality of Ingredients

Cellutone

Ability to Deliver Active Ingredients
Potential to Reduce Appearance of Cellulite
Ability to Tighten and Smooth Skin
Quality of Ingredients