10 Vital Vitamins to Fight Aging
There's no point in stopping aging from stopping you. Sooner or later, your reflexes slow down and your skin wrinkles—naturally. There are definitely ways by which to delay these signs from showing up on your skin. The beauty of the latest breakthrough in anti-aging science is that, more and more evidence are supporting that improvements in the body's molecular structure and make up can be introduced with simple, regular intake of vital nutrients—vitamins included.
Listed below are ten of the most essential vitamins to help you look and feel youthful:
1. Vitamin A. If premature skin aging runs in the family, you might want to get started early on Vitamin A supplementation but, if you regularly eat a balanced meal, you can get this vital skin vitamin from vegetable sources. Great food sources of Vitamin A include sweet potatoes, spinach, carrots, kale romaine lettuce, and mustard greens.
Whether topical or taken in as a supplement or, from natural food sources, Vitamin A is also essential in fading brown spots and improving skin hydration and elasticity. Topical applications like wrinkle creams and other skin treatments are often infused with Vitamin A, in the form of retinoids. When you choose to use any topical formulation that has Vitamin A in it, take care not to expose your beauty bottle or skin under the sun.
That's not all! Vitamin A is also essential in keeping your eyes young and sharp. It is also important in the production of red blood cells and in boosting your immune resistance. Now that also helps your blood circulation healthy, and your skin glowing as a result.
2. Vitamin E. Vitamin E has become an essential ingredient of many anti-aging and skincare products but also anti-aging pills that promise you beauty that lasts a lifetime.
Vitamin E plays a vital role in nourishing your skin—it keeps skin cells well-hydrated by strengthening the skin cells' ability to capture and hold moisture. The result: softer, smoother, more elastic skin that is able to better bounce back from wrinkling and fighting other signs of skin damage. Vitamin E also helps in correcting uneven skin tones and improving overall skin complexion.
While Vitamin E supplementation has become more popular, but perhaps essential to some most especially older adults, take note that adults who eat a healthy diet only need about 15mg of Vitamin E daily. Higher doses of Vitamin E won't necessarily give you better looking skin. Quite the contrary, it may cause serious health issues.
Excellent food sources of Vitamin E include avocados, kiwi, hazel, nuts, almond, spinach, and broccoli.
3. Vitamin C. Fighting the signs of aging, skin aging included, requires you to take in sufficient amounts of Vitamin C, and because your body cannot store Vitamin C, you have to load up on it daily.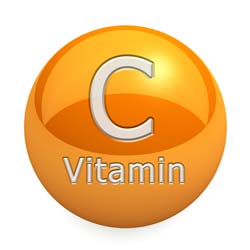 Vitamin C is a powerful antioxidant that acts like a skin sweeper, attracting free radicals that can cause your skin to become damaged. Together with Vitamins A and E, Vitamin C also acts as a skin shield, protecting your skin from free radicals, including UV rays.
The skin health benefits of incorporating loads of Vitamin C in your diet are endless. Vitamin C helps speed up collagen and elastin production, and supports the body in producing these in larger volumes. Collagen and elastin fibers in the skin are produced in slower and much lesser quantities as you age. These changes significantly slows down your skin's ability to repair itself.
Incorporate broccoli, hot chili peppers, bell peppers, currants, broccoli, berries, kiwi, and oranges in your diet to make sure you're getting sufficient amounts of Vitamin C. Consider Vitamin C supplementation.
4. Vitamin B3. This B vitamin helps your skin strengthen ceramides and fatty acids in your skin. This function of Vitamin B3 is important in reinforcing your skin's outer layer to protect it against irritation and help keep moisture locked deep within at the same time.
If skin irritation, redness, and swelling are among your constant skin challenges, your diet may be low on Vitamin B3. Whole grains and bananas will be a great addition to your anti-aging diet.
5. Vitamin K. Phytonadione, also known as Vitamin K, benefits your overall health and gives you youthful skin at the same time.
Vitamin K has been found to support osteolcalcin, the process that supports your body's bone-building activities, and your body's capability to process sugar and carbohydrates. As a direct result of these functions, Vitamin K helps prevent build up in your arteries and keeps your blood and oxygen circulation health. As are result, your skin gets ample amounts of nutrients and oxygen that aid in keeping it young-looking.
Spinach, turnip greens, and mustard greens are excellent sources of Vitamin K. Vitamin K has also become a common ingredient of topical skincare creams.
6. Vitamin B5. Pantothenic acid, also known as Vitamin B5, forms the building blocks of body enzymes that support healthy metabolism and absorption of proteins, fats, carbohydrates. It is also essential for the normal functioning of the nervous system's neurotransmitters so that your body and brain remain coordinated and well-functioning. Vitamin B5 also serves as a precursor for the production of red blood cells. It also acts on many toxic substances and helps eliminate them from your body.
Avocado, yogurt, mushroom, liver, and poultry are great sources of Vitamin B5.
7. Vitamin B12. Better known as Cobalamin, Vitamin B12 supports the metabolism of carbohydrates, proteins and fats. It helps regulate your body's energy levels, and promotes healthy skin and great looking hair.
Vitamin B12 is essential for maintaining the nerves' myelin sheath. Damage to this part of the nerves results to poor memory, mood disorders, and constant feeling of fatigue, to name a few.
8. Vitamin B1. Reputed as the "anti-stress" vitamin, Vitamin B1 or Thiamine, is an important building block of thiamine pyrophosphate (TPP), a coenzyme that is essential in breaking down carbohydrates into glucose. Vitamin B1 helps prevent the occurrence of hyperglycemia or, having high levels of sugar in the bloodstream.
Maintaining sufficient levels of Vitamin B1 in your system helps keep your brain alert and your nerves free from involuntary shaking. Too much sugar in your blood suffocates your skin, leaving it dry and more prone to developing signs of aging.
Great food sources of thiamine include eggs, whole grains, leafy greens, and nuts.
9. Vitamin H. Better known as Biotin or Vitamin B7, Vitamin H is essential in the production of glucose and fatty acids. It helps form the building blocks for skin cells, supporting skin cell regeneration and restructuring. Insufficient Vitamin H can lead to the development of dermatitis and hair loss, along with high cholesterol, and digestive and heart problems.
The best food sources for Vitamin H are grains, beans, and fish.
10. Vitamin B2. Vitamin B2 is an essential component of your DNA, red blood cells, and nerve cells. It helps improve overall circulation and therefore in maintaining youthful skin.
Best natural food sources are dairy foods, fish, and clams.
Anti-aging vitamins are a perfect illustration of beauty that comes from within. Whether topical or ingested, these 10 essential anti-aging vitamins must be maintained at sufficient levels in your body. While younger adults may derive these from natural food sources, aging and older adults will have lesser capabilities of assimilating these from food and, therefore, should consult with their doctor regarding supplementation.
Even as these vitamins are great for your skin and health, too much of these can hurt you. Never take any vitamin supplement without medical supervision. Consider topical vitamin application as well. Check the labels so that you can maximize the benefits these vitamins can offer for your anti-aging regimen.