Just These 10 Lipsticks Can Keep You Fashionable and Hydrated For the Whole Winter
You are the only person who can choose the appropriate color of your lipstick. However, you may opt for darker colors or bold shades during the cold days. You can brighten the chilly days and nights by selecting eye-catching hues which also cheer up the dim garments that you will most likely be wearing in the next few months. Once the autumn draws near, you can revamp your looks by switching to glossy corals and pale pinks for vibrant fuchsias, moody berries, and dark plums. It is also very important to remember using the right hues depending on your skin tone and that moisturizing is very crucial in maintaining your lips juicy.
Here are 10 lipsticks to keep you fashionable and hydrated during the entire winter season:
1. The Hydra-Smooth Lip Color Dare Me
This happens to be one of the best lip care products that suits nearly every skin tone. It can offer medium to full coverage, with a silky and slightly glossy finish. Some of the ingredients that make it ideal for winter include beeswax, shea butter, castor oil and vitamin E, all which are essential to keep your lips hydrated for the better part of the day. You can get it from various stores and online outlets at a cheap price of about $20.
2. Dior Addict Lipstick In Be Dior
This is a new lip care product that is raspberry pink in color suitable for the brunettes and blondes of fair and olive skin. The manufacturer claims it is loaded with a hydra-gel core obtained from three oils to rapidly melt on your lips for a plumper and voluminous appearance. You can use it for sports medium to full coverage, and offers a lasting glossy finish that is not sticky. You can get for around $30.
3. Sophia Loren No 1
This is deep pink in color and was recently launched for all skin tones. Coming in an elegant golden case, the lipstick is engraved in black and is fairly pigmented and light in weight. It promises an alluring satin and a slightly glossy finish when it comes to texture. You can get it exclusively at Harrods ©Dolce & Gabbana at fair price of $36.
4. Estée Lauder's Pure Color Envy Matte In Extrovert
Are you looking for a vampy, matte-textured finish? Estée Lauder's Pure Color Envy Matte in Extrovert should be the lipstick of your choice this winter as it suits all skin tones to give you a bold shade that will give a unique look to your lips. It long lasting formulation is designed to glide smoothly over your lips to give a comfortable feeling while ensuring your lips are properly moisturized. It's currently priced at around $30 depending on point of purchase.
5. The Femme Rouge Velvet Crème Lipstick In Icon
Manufactured by Hourglass, this is a classic red lipstick that is ideal for all skin tones. Its makers claim that it comes as a creamy, hydrating formula that is silky to offer long-lasting finish and is highly pigmented. It comes in a refillable metal case along with cartridges which are sold separately for about $18.
6. Wine-Hued, Japonesque's Pro Performance Lipstick
This comes in shade 9 and is highly pigmented with a creamy texture. It promises long-lasting satin finish that provides full coverage with just a single swipe. It promises to leave your lips plumper, more voluminous and is suitable for all skin tones. You can find it at an affordable price depending on your point of purchase.
7. The Persistence
Manufactured by M.A.C. Cosmetics, The Persistence comes as a highly pigmented brick red color that is ideal for people with olive or fair skin tones, particularly for those with dark hair. It provides a matte finish that feels pleasantly creamy and smoothly glides over your lips. You can use it for sports full coverage and lasts for the better part of the day. You can find it for less than $20.
8. The Mattelustre Lipstick In Plum Berry
Made by Pixi Beauty, this lipstick promises a creamy texture that melts over your lips to settle down into velvety matte-finish that lasts for hours without causing bleeding. It's formulated with ingredients such as dimethicone, hyaluronic acid, and hexapeptide-12. It also contains vitamins C and E. It is suitable for all color tones to give a well hydrating experience to your lips. It's selling at around $20.
9. Sisley's Hydrating Long Lasting Lipstick in L25 Geisha Red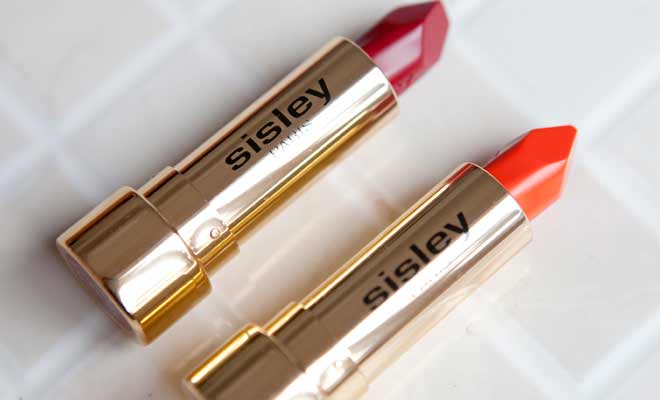 This is an ideal lipstick which is blue-based cherry red in color to offer and outstanding color payoff. You can use it for a nourishing texture to get a silky finish. It comes in a golden tube and decorated with Sisley's logo in black. With spiral-shaped bullets, it slides smoothly over the lips and is suitable for people who own cool undertones.
10. The Revolution Lipstick in Anarchy
Looking for a satin finish with a blue-based bright pink look? The Revolution Lipstick in Anarchy promises to offer a full coverage with just a single swipe. It has strong moisturizing ingredients obtained from avocado oils, jojoba, shea butter and cocoa. It is suitable for pale skin tones, especially blondes. You can get it for less than $20.
Conclusion
If you have been wondering what to use this winter to keep your lips fashionable and hydrated this winter, you should pick from the 10 lipsticks listed above. Treat your lips the right way this season and enjoy your unique pout!