12 Beauty Wonders from France
If you've ever stepped foot inside a French pharmacy, you will appreciate when we say they are better than the typical American drugstores. They have rows and rows packed with beauty products that greet you as you enter. Here are some of the products that will do anything from soothing your chapped lips and irritations to making the whites of your eyes whiter.
Innoxa Blue Drops
One drop of Innoxa Blue Drop will revive the whites of your eyes and make your eyes sparkle like magic.
Biafine
Biafine will act on your skin irritations and burns like no other. It also hydrates the skin and soothes chapped lips.
Embryolisse Lait-Crème
Embryolisse is a moisturizer that soothes the skin and can also be used as a mask, a cleanser or a primer.
Homoeplasmine
Homoeplasmine is a non-greasy ointment that leaves behind a smooth, matte glow. It is a darling of many makeup artists.
Bioderma Crealine H20 Mecelle Solution
This Mecelle Solution clears makeup in one sweep. It will leave your skin feeling clean and fresh.
Lakshami Kajal Cold
If you need your eyeliner to be super inky, budge-proof and black, you need Lakshami Kajal Cold in your life as soon as possible.
Nuxe Reve De Miel Baume Levres
Nuxe Reve de Miel Baume Levres is a luxurious lip balm whose color looks like honey. It is also liked by many makeup artists.
Erborian Yuza Sorbet
Many makeup artists have sworn by this light-as-feather, bouncy moisturizer. It is a best seller in France because of its skin care qualities.
Ialuset Hyaluronic Acid Crème
Hyaluronic acid is known to be one of the best friends of the skin. Products containing this acid hydrate and bind moisture to the skin without feeling thick or heavy.
Zao Organic Silk Foundation
Zao Organic Silk Foundation is a liquid foundation that conceals, covers and leaves a smooth finish not easily achieved by many products.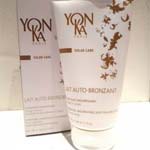 Yon-Ka Lait Auto-Bronzant
This much-loved self-tanner is made with natural botanicals and fruit extracts to leave you with a natural-looking, subtle glow at any time of year.
Avene Thermal Spring Water
This facial mist is something you should never leave home without. It makes your face shiny with a radiant glow.
Skin Brighteners aid in reducing post-inflammatory hyperpigmentation revealing even skin tone. Skin brighteners also can help revitalize tired and dull skin resulting in a youthful, healthy glow.
Below you'll find some of the most effective skin brightening products on the market today, in our opinion.
Our Top Skin Lightening Choices