Top Fantabulous Pointed Nail Art Trends for Spring
If you want to have a change; try something new. Perform something that's quite interesting to get beautiful-looking nails. All you need to do is try pointed nails; these are popular with celebs and it looks so stylish.
Here you can get some amazing and gorgeous ideas for pointed nail art with bright, dark colors, print or just a single color as per your choice.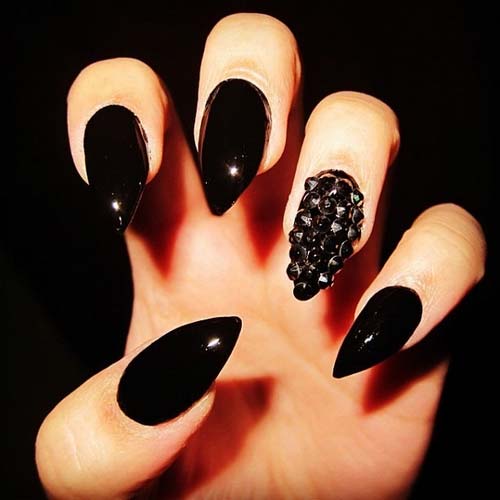 First of all cut your nails and give them pointed shape. Paint all your nails black and use the black colored stones on the nail of your ring finger. Voila! You get darker and gorgeous nails.
After giving your nails the pointed manicure put the black color carefully on all nails except your ring finger. Use the golden glitters on the ring finger. You can use the golden chain like jewelry on the thumb and middle finger.
Use the white, golden glitters and black colors to pain your nails. You can use small golden, silver studs and diamond ones to decorate your pointed nails.
Paint your nails with the navy blue color; use a streak of light color. Use the black stones, diamonds and golden studs to create designs on your ring fingers.
Use the light shades and paint it on all your nails. Use the small diamonds to create different designs on them to get beautiful look.
Use the lighter and darker colors to pain the nails. Use the golden streak for separating the two different shades. Use the transparent shaded studs for decorating the nail of your mid-finger.
Give a trendy design to the pointed nails using the dark pink, white, brown colors. Use the streak for separating these three colors with the black color.
Use the white color to pain your nails. Apply the black color and design it in V-shape and paint it until the tips to get this sexy look.
Apply the lighter pink shade and black to get these beautiful looking designs. Use the square shaped golden stones for decorating the nails. Give different designs to different nails.
Give your thumb nails the dark pink color. Use the black shade to create a zigzag design. Use the shiny lighter shade of blue on your pinky and second finger; use a diamond at the bottom. Paint the mid-finger with shinning dark pink and use the diamond stone at bottom. Decorate the ring finger with designs of roses.
Use the golden glittering nail paint and black shades on the tips of nails. You can create designs of your choose on your mid-finger.
Use the sky blue color on all your nails. Use the white colors and silver stones on your ring finger and let your nails shine.
Photos via www.stylemotivation.com