18 Thanksgiving and Fall Nail Art Ideas- TheBeautyInsiders
Now that the time to start planning your Thanksgiving Day has come, we're all scrambling to find the perfect clothes and accessories to complete our Best thanksgiving outfits.
But what about your nails? It's also a great thing to use your nails to your advantage during times like this. Fortunately, we've compiled 18 Thanksgiving and Fall Nail Art Ideas for you to choose from!
"Why go for nail art?" you might ask. Well, check out these Spectacular Nail Designs to find out!
18 Thanksgiving and Fall Nail Art Ideas:
Choosing Nail Shape is just a fraction of the hassle and pressure of finding the perfect nail art. To look your best for the Holidays, wear your best fall outfit with matching fall Thanksgiving nail art!
Related– 7 Nail Polish Brands that will Make Your Nail Art Attractive
1. Plaid Thanksgiving Nail Art:
We all know that plaid designs are a fall staple pattern. In this first thanksgiving design idea for your nails, this classic meets modern with its off-center accent, unusual color combination, and of course, the matte finish.
You can also try this classic colored version
if you have no time to make the pattern for every single nail.
And, if you're not into matte nails, you can also opt for another variation that uses the usual smooth-finish nail polish but is equally nostalgic and beautiful.
2. Metallic Marbling Thanksgiving Nail Art:
This Marble Nail Art features warm Thanksgiving tones, browns, and golden hues. The creator used one of the best Expert Nail Hacks, the nail-polish-on-water technique, to create a mesmerizing marbled pattern. The final product is absolutely fascinating, festive, and gorgeous!
3. Copper Plaid Thanksgiving Nail Art:
Under the Trendier Nail Art Ideas, this next nail art combines the concept of the first two but does not take things too literally. It's stunning and bright in its own way.
To create it, place different widths of copper strips on a light pink base coat of polish. Arrange the metallic strips in an angled way that mimics the plaid design with a stylish and unique twist.
4. Negative Space Cranberry-Inspired Thanksgiving Nail Art:
Another staple that you normally find on the Thanksgiving dinner table is cranberry sauce, which inspired this next nail art. It's one of my favorite Glittery Nail Designs showing the classic rich color of cranberries mixed with trendy negative spaces in between. Paint one nail with white and the others with shimmery deep purple for an extra festive and edgy pop.
5. Rustic Wooden Thanksgiving Nail Art:
What reminds you more of a cozy, Thanksgiving evening than the wooden accents at home and fall leaves? This Fantabulous Pointed Nail Art Trends manicure will remind you of the warm vibes and chill atmosphere at home with close friends and family.
Go for this mani if you want to discover The fantasy Of Dark Nail Colors. I think the rustic wooden touch all the more adds to its charm! Don't you agree?
6. Cute Pumpkins Thanksgiving Nail Art:
Bring some cuteness to the Thanksgiving table with this lovely and adorable design! It's both easy and pretty, while also incorporating a concept related to this time of the year.
Simply draw pumpkins at the top edges of your nails using a simple base color, a nude color, and of course, a nice pumpkin orange shade to make the look pop. Some even suggest a matte top coat finish is a perfect touch.
7. Cranberry Blossoms Thanksgiving Nail Art:
Another top choice out of all Easy Floral Nail Arts is this cranberry blossom design. If drawing the flowers prove to be too hard for you, just paint them on one nail and paint your other nails with matching shades of pale pink and ruby red. A bit of sparkle also goes a long way to achieve a dazzling nude flowery look.
8. Linear Prism Thanksgiving Nail Art:
Similar to Mirrored Manicures, linear prism nail art uses a holographic glitter nail polish to scatter light and give that unique shimmer and sort of hypnotic rainbow color. It has become one of this year's most-talked-about trends that have gone from eyelashes to eyeshadow, lipsticks, gloss, and now, nail polish.
This nail art uses a holographic chrome pigment applied over a regular or silicone base. Although these nails don't scream Thanksgiving, you can always make them more timely by using the same concept but with a herringbone pattern such as this one:
9. Fiery Fall Leaves Thanksgiving Nail Art:
Another favorite of all the fall nail art designs, this nail art could be a difficult to achieve for a nail art noob. However, trying it out or having it done on you will surely make the compliments flow on the Thanksgiving table.
It's a perfect design that features the warm, vibrant colors of the season. You can also try this on other Fall stuff such as pumpkins, feathers, or turkey.
Related – Nail Designs: 7 Gorgeous Wedding Nail Art Ideas For a Stunning Look
10. Sparkly Ombre Sequin Fade Thanksgiving Nail Art
Simple yet festive, this sparkly nail art is sure to give you the prettiest nails! It also uses the colors that remind you of autumn, without being too obvious, of course.
Use an orange or red base coat if you want a brighter hue, but this one's perfect if you'd rather go for a subtle, chill vibe.
11. Holiday Pies Thanksgiving Nail Art
I may have already gotten over the Voodoo Doll Nail Art Ideas from Halloween, but this one may be one of my favorites yet!
This nail art shows not one, not two, but five different pies! According to the creator, that's a blueberry pie on the thumb, Dutch apple pie on the index finger, cherry pie on the middle finger, pumpkin pie on the ring finger, and lemon meringue on the pinky. All these yummy pies will surely remind you of your grandmother or your family's pie recipe!
Simply use your preferred pie filling color and a little brown or cream for the crumbs or crust.
12. Candy Corn Polka dots Thanksgiving Nail Art:
If you're looking for easy thanksgiving nail art designs, candy corn is a top choice! This one features the Thanksgiving classic candy corn colors of white, yellow, and orange to make polka dots of various sizes.
This pattern is very easy to do with the help of simple dotting tools like the nail polish brush or toothpick. The kind of ombre fading design also makes it all the more stylish and out of the ordinary.
13. Turkey Accent Nails:
While painting on a whole turkey on every single fingertip may be a bit too much, I love the way this nail art gets the idea without being over the edge. The accentuation of the gobbler is perfect to put anyone in a Holiday mood.
To do this, paint on an opaque white base coat take a slim-tipped nail art brush to draw leaf-like feathers on the side of your nails. A quick flick of the brush as if checking test papers should do the trick.
To make it more autumn-appropriate, choose fall colors like brown, red, and orange. This look is perfect to wear to a Thanksgiving festival!
14. Fall Quilt Thanksgiving Nail Art:
Fall is about cold, crisp air and cuddling under the blankets or sweater to keep you warm. This nail art will remind you of this fact that you probably love. Simply draw squares of different fall shades of nail polish and outline them with white edges to create a quilt effect.
Throw in some sparkle and glitter for a touch of fun.
15. Autumn Trees Thanksgiving Nail Art:
Another simple yet pretty nail art design is this concept of autumn trees on white background. Just draw trunks and a few branches with a brown polish and add different brightly colored leaves for effect!
This manicure will pair perfectly with a matching Thanksgiving eye makeup!
16. November Autumn Nights Thanksgiving Nail Art:
One thing that some people enjoy and love about this time of the year is the nice night sky. Pair it with some stars, a glowing campfire, and a chilly breeze, and you've got yourself a relaxing, romantic atmosphere.
Both of these designs feature the stars during a November night, but one is a little more jolly and generous on the glitter while the other one is more subdued and sort of sentimental. The choice is up to you!
17. Minions Thanksgiving Nail Art:
Because of the success of their box office hit movies, these cute little yellow guys have made their way from toys, shirts, shoes, and commercials to Thanksgiving nail art designs!
If you want to take in the spirit of the Holidays with overflowing enthusiasm, the minions have got you covered! What I love about them is that they're easy to draw, and you can dress them with anything you like, like a turkey headpiece!
18. Charlie Brown Thanksgiving Nail Art: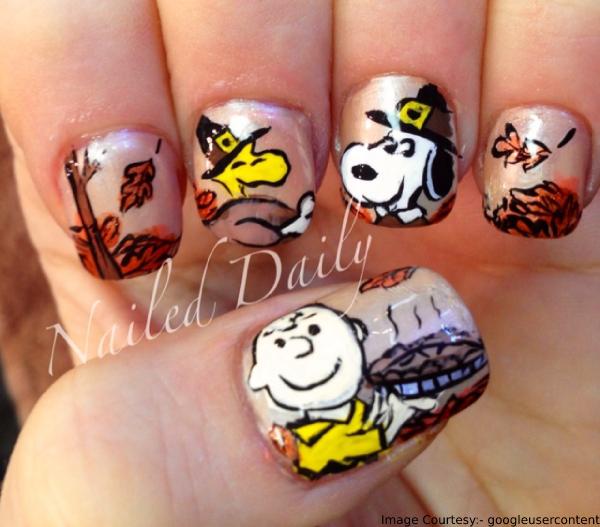 Last but not the least, many people, young and old alike, will surely not forget one of the classic TV specials on Thanksgiving, Peanuts. Start with a simple neutral polish for the base, then paint on the characters like Snoopy, Woodstock, and Charlie Brown using yellow, brown, black and white shades
Related: Nailbot: Smartphone Nail Art Printer for Lazy Girls!
Conclusion:
Obviously, this post cares more about the design more than what does your Fingernail Shape Say About Your Personality. Whether or not you get whatever nail art you choose done perfectly, I'm sure everyone who'll see will appreciate the love, happiness, and Holiday spirit that your nails speak about!
Like this post? There's more. Get tons of beauty tips, tutorials, and news on the thebeautyinsiders Facebook & Twitter page. Like us on Facebook – we'll see you there!