5 Beauty Resolutions For This New Year
New year, new resolutions. If you've been achieving your new year's resolutions in the past then, a beauty resolution shouldn't be too hard to accomplish. However, if you've been blowing every single promise you've ever made to yourself then, know that venturing into this new year beauty resolution list will certainly be tough!
Top 5 beauty & skincare must-dos in New Year
You can hear your mind whisper, 'This is the year…' For your own good do make this "the" year: the year you loved yourself. You must know, when it's beauty you want, you can't quite achieve it simply by using the right products on your hair or skin or dress in a way that you're always well put together.
Real, lasting beauty begins once you start taking better care of yourself – every day!
Kick off new year with your best start by following the five basic tips below to power up your new year:
1. Cleanse and Moisturize
Nothing beats the gold standard for skincare! Keep your skin thoroughly clean and free from dust, dirt, and excess oil by using a separate cleanser for your face and body that are tough on skin impurities yet mild and gentle for your skin. For your face, follow through with a toner to keep your pores tight and meticulously cleansed.
Moisturize skin to bring back moisture lost during cleansing and toning. Use moisturizers that are packed with antioxidants, emollients and skin conditioners so as to hydrate skin, and help skin lock in moisture more effectively to prevent moisture loss while also building your skin's natural barrier that shields it from free radicals and other skin damaging environmental stresses. For best results, use body creams and moisturizers that contain peptides. Peptides do not only smoothen skin but also plumps it up and helps replenish the skin's supply of amino acids, the building blocks of skin necessary for skin repair and rejuvenation.
2. Exfoliate Regularly
Stimulate newer, younger skin to surface by kicking out dead skin cells that are afloat on your skin. When it comes to exfoliation, it's best to consult with your dermatologist first before doing this periodically. There are many factors – such as skin type, extent of skin damage and the level of exfoliation needed, and skin pH – that need to be considered to determine the exfoliant and exfoliation technique that is most appropriate for your skin type.Likewise, there are exfoliation techniques that you can do yourself at home with the help of personal care products. However, you also need to exfoliate in the clinic every once in a while for maintenance and on need basis.
3. Religiously wear sunscreen during the day
Never have to brave the sun with bare skin. Keep in mind that the sun is your skin's worst enemy. You must know that you continue to be exposed to UV rays even on a cloudy day or when you're under the shade as UV rays bounce off streets, walls and buildings, exposure to which damages and ages your skin. For these UV situations you can't control, your best protection is sunscreen. Make it a habit.
If you're dead serious about getting a healthier glow and complexion, there can be no shortcuts, and you can't do away with these two items:
4. Get started on Meditation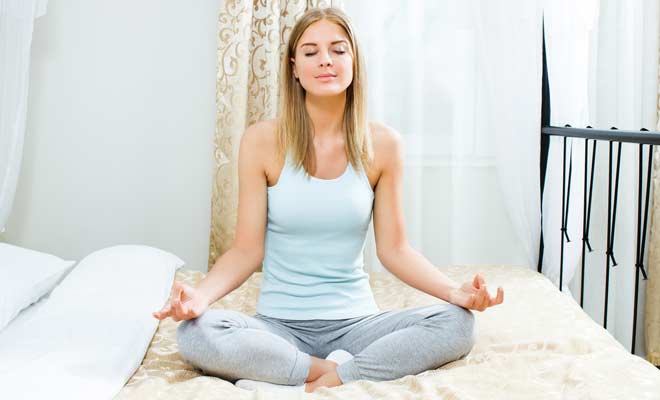 Stress can be a beauty buster. Know this: stress is not entirely bad for your health but, if you're unable to channel it to work in your favor, your health and beauty are bound to suffer. Take better control of your thoughts and emotions by allotting just about 15 minutes of your time every day to total silence so that you can listen to your mind and your body, and tone down the things that are stressing you out. Meditation is for your mind which is very powerful and therefore the benefits of meditation extends to the rest of your body.
There are no special skills or education required to learn meditation, and there are many ways that you can meditate. Love yourself more by finding out how you can beat stress before it beats the best in you.
5. Lead a healthier lifestyle
There's no escaping leading a healthier lifestyle – now is the time you're going to want to do it, not tomorrow, not next year. Stop smoking. Refrain from taking alcohol, and always take in moderation if you do.
If you're not clinically obese or overweight, that means it's not based on your opinion, there's no need to for your to take on any special diet. For most people, mindful eating is the key. This entails that you listen to your mind and body. Eat unhurriedly so that you can hear your body when it tells you, 'enough'.
Exercise. Just 15 minutes of walking will do wonders to your overall blood and oxygen circulation – and, this does wonders to your skin too.
Conclusion
No pain, no gain. Turn the five beauty and skincare must-dos listed above into your New Year's resolution for this year. Every time your mind is tempting you to skip any of the pointers above, just picture yourself with a healthier face, skin and body – if you can't be converted for health, perhaps you'll be converted for vanity's sake.