5 Morning Skincare Mistakes You are Probably Making Every Day
Just because you do something every day since time forgotten, it does not make it right. And so, because you do it every day, it easily slips, hardly to be noticed at all. Little do you know what you do every morning to care for your skin may actually be ruining it even more? Although unintentionally, the result is the same: damaged skin. You don't want that, do you?
Time to have a closer look at your daily morning skincare routine and honestly admit where you're doing wrong and running low. It's time to unlearn what you know so that you can practice what's right and what you should have been doing for a long time now.
5 Day Time Skincare Mistakes You're probably committing and are not aware of
Below are five of the most common daytime skincare no-no's you've probably been practicing for a long time and not have the slightest idea that these are wrong:
1. Leaving Out A Good Facial Cleanse In The Morning: Some people subscribe to the silly idea of washing just once in the evening, most especially if you have dry skin. But, really? Just think about it. Even as you sleep, dirt and dust somehow find a way to land on your face; oil and grime ooze out of your skin non-stop; and, you have lathered on pile after pile of serums and creams the night before – shouldn't morning be the perfect time to eliminate all of these products and impurities from your skin? That's what we thought, of course!
Keep to a gentle cleanse in the morning. Save your alphahydroxy acids (AHA) for your evening wash.
2. Excluding Exfoliation From Your Daytime Routine: A gentle physical exfoliation in the morning is a great way to start off your skin clean and clear of products and other nasty stuff that have been left hanging or got loosened up throughout the night. If you like how smooth your skin feels after exfoliating with a soft, fine-toothed facial brush, feel free to incorporate this in your morning routine. You can also use facial loofahs or mitts if you prefer these. Of course, you can always turn to natural, organic exfoliators. The easiest ones to find around the home are oats and sugar. These do more than just exfoliate your skin; they enliven your senses 'Good Morning!'
3. Washing Your Face with Hot Water: The best water temperature you should be going for regardless if it's for a good morning or evening wash is lukewarm. Either water that is too cold or too hot for your face can be drying, irritating and damaging to your otherwise healthy skin. So, take time to mind your water temp before splashing it on.
4. Forgetting To Wear Skin Protection: Keep this in mind: protect during the day, and regenerate during the night. For your daytime routine, forgetting to put on your sunscreen deserves a reprimand as this can be the most serious, not to mention the most dangerous, sin you can ever commit that suffers your skin. Put on your sunscreen to prevent premature skin aging but more importantly, to avoid contracting skin cancer. Another kind of protection that will do you good to pamper your skin with is antioxidants. These add another layer of skin protection, forming a barrier between your skin and external factors that can cause oxidative stress, UV rays included.
5. Applying Oil, Serums and Creams Meant For Evening Application During The Day:
For this, you need to mind both the product type and what's written in the labels, because even manufacturers forget that photosensitizing ingredients like Retinol and AHAs should be reserved exclusively for evening application. Else, you'll be doing more damage to your skin, and you will be wasting these expensive ingredients since this breakdown easily when exposed to sunlight.
How Your Day Time Skincare Routine Should Look Like?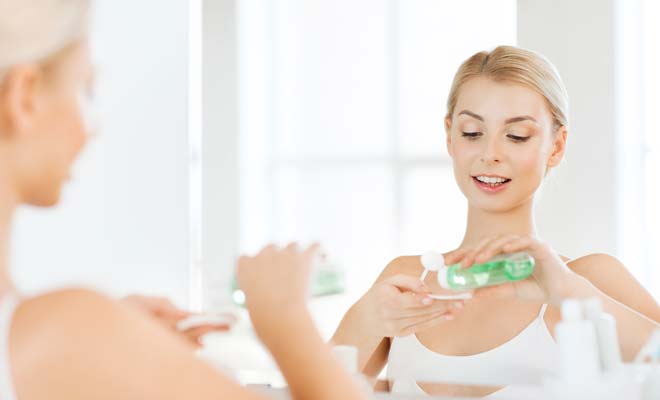 So many products, so little time to find out which ones will work real, lasting wonders for your skin. Manufacturers and advertisers will sell you anything, all promising the same thing: beautiful skin. Very few, however, deliver on results.
Therefore, stop confusing yourself. Stop contemplating on whether or not you need a particular product to add to your stash by familiarizing yourself with the necessary steps for your daytime and night time routines.
Cleansing is the first requirement. Make it the first thing you do in the morning, and the second step you do at night, that is, after removing your makeup with a makeup remover.
Follow through with a good exfoliation. You don't have to perform this step every day. Once to thrice weekly should be enough.
The third step is to tone. Give your skin and pores a thorough clean by running a ball of cotton slightly wet with toner over your skin. This step opens up your pores and draws out the grime so you can have tighter pores.
The last step is either to protect or moisturize. Protect in the morning by applying sunscreen and antioxidants. Moisturize at night to aid skin regeneration. Use your anti-wrinkle products only in the evening.
Conclusion
It pays to know if you're doing the right thing or not. If you've been committing all or some of these mistakes, there is no better time than now to get it right.