5 Tips To Create Star Wars Inspired Nail Art
Seeking to awaken The Force within you? Re-live the Star Wars fever again and again with these easy and simple ways to get the most unforgettable Star Wars characters on your nails.
Things you'll need
Before you can even channel Star Wars on your nails, of course there are some prerequisites you can't possibly do away with when it comes to achieving remarkable nail art.
Below are things you will need:
1. Print out the Star Wars design or character you are looking to achieve or, make a sketch on paper
2. Tools. Choose your nail lacquers, nail cleaning tools, q-tips, slim brushes or makeup brushes you no longer use (just make sure they're clean). Keep a nail polish remover within reach. Get a clear glue or masking tape on too. Use any of these adhesives to line borders of your nails so you don't get much of a hard time getting off mis-applied lacquers when you're done-you can simply peel them off!
3. Clean and clear nails. First things first, clean your nails. Before you set out on painting your nail art, make sure each nail is also grease-free and rid of dirt, loose nails, and dead skin. Be mindful of shaping the tips so they match the art you're about to draw. File well to avoid chipping.
4. Loads of artistic imagination and skills. The idea with nail art is to simplify your graphics. The more you can translate your graphics to simple lines and dots, the better you will be able to make your Star Wars characters come to life. Tip: You have a very limited canvass that's limited to your nails so, keep it easy on yourself. Simplify.
5. Patience. Completing just one nail art project takes a lot of time detail so you'll benefit from patience if you're venturing into nail art.
Time for inspiration
1. Star Wars Labelled Nail Art
You'll need shimmery black and bright yellow lacquers to pull off this theme. Print out the iconic Star Wars logo. Paint all your nails with the shimmery black lacquer. Using a pointed tip brush, start writing down on your nails. An alternative will be to find nail stickers you can use to put on the labels. If you do use stickers, don't forget to lock in with a clear top coat.
2. Lightsaber Nails
To pull this off, you'll need shimmery black and silver lacquers plus, at least five other colors that will stand out on black – best if these are bright neon colors like yellow, green, red, violet and fuschia. Paint all your nails with the shimmery black lacquer. Use either the base or the tip of your nails to draw what should look like the base of a sword with the silver lacquer. Then, draw a straight line across from the silver handle all the way to the other side of your nails using each of the five other colors – one color for each nail.
3. BB-8 Nails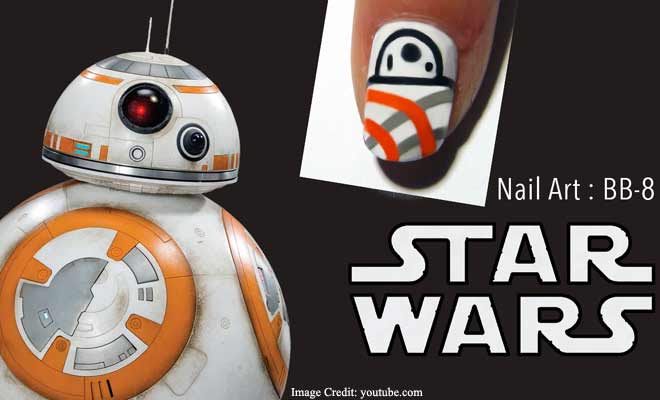 You can choose to draw BB-8 or, keep it simple by taking his primary colors – white, black and bright orange and adopting these to your nails. The simplest way to get a BB-8 theme is by painting all your nails white first. Next, make an arc from the tip of your nails using the bright orange lacquer and fill it in with the same color. Use your black lacquer and a slim, pointedd brush to draw two lines below the orange arc – with the line closer to the arc thicker than the other line below it. You may also draw two or three black circles on the area below the thinner line and fill it with orange lacquer. Take a pointed matchstick. Dip it in your white lacquer or use a silver lacquer then dot the center of your circles with it.
4. R2D2 Nails
You can choose to draw R2D2 on your nails or, to keep it simple, use a white polish as base and draw a thick, straight line on the tips of your nails. Using a slim-tipped brush, draw a thinner line below it – not exactly R2D2 but, the people around you will get the message plus, they're neat and easy to carry. Now, if you still prefer the actual drawing of R2D2, make sure you have a print out of the lovable droid and your slimmest tools in front of you before starting out on this nail art project.
5. Storm Trooper Nails
For this inspiration, you will need a white and black nail lacquer. Paint all your nails with the white lacquer. Take the main features on a storm trooper's mask – what seems to be its eyes, nose and mouth – and draw these over the white lacquer using your black nail polish. Use your slimmest tipped brush to draw these features.
If more accent is desired, use rhinestones on your nails to accent dots, for instance, on R2D2's or BB-8's body.
Conclusion
Nail art takes time to get a hold off and to perfect. Practice with the patience, wisdom and skill of a Jedi, and while you're at it, may The Force be with you.