ActivLash: Does ActivLash Work?
By
An exclusive review of ActivLash Product, Know more about ActivLash Product, its pros & cons on the beauty insiders.
Advertising Disclosure

?
ActivLash Overview
ActivLash is an eyelash growth system that produces longer, fuller and thicker eyelashes within weeks. The official website for the ActivLash brand is very impressive and user-friendly, being easy to navigate with clearly headed sections.
Although there are no clinical studies shown to prove that ActivLash works, the company does claim that it was developed by a team of physicians, chemists and aestheticians and has undergone 'scientific studies'. The product has also been tested for safety in terms of potential skin irritation, particularly important when it is to be used around the eye area. However, it is said to cause a tingling sensation when applied. ActivLash is also supposed to be the only product of its kind not to cause blurry vision or darkening of the iris, although there is no evidence to back this up.
The website shows a few very brief customer testimonials and there are two 'before and after' shots which appear to be of genuine customers. No FAQ section is included but the product does seem as though it is easy to apply and can be used not only on the top and bottom row of eyelashes but the eyebrows too.
ActivLash – Does It Really Work?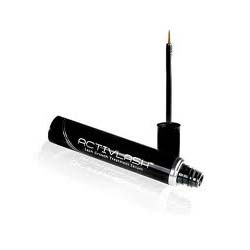 Like similar eyelash conditioning products, ActivLash is contained in a mascara-like tube and applied to the baseline of the lashes, like a liquid eyeliner. It is to be applied twice a day, morning and evening and because it is a clear serum, once dry, the consumer can apply their regular make-up.
ActivLash Ingredients :
The full list of ingredients is featured on the ActivLash website and the benefits of the key, active ingredients are explained.
Swertia herb extract and glycoprotein:both increase the blood flow to stimulate the hair follicles.
Green tea and grape seed extracts: use anti-oxidant properties to fight damaging free-radicals.
Bilberry conditions and flavanoid complex : helps slow the aging process which may cause brittle and dry lashes. Although it may cause redness to the skin.
ActivLash contains no parabens or fragrances, but it is still a good idea to test the serum on a patch of skin before using, in case of allergic reactions.
ActivLash Pros
The product can be worn under regular make-up
The full ingredient list is provided
Conditioners in the formula may result in stronger lashes that are able to reach full growth potential. Although many user reviews say it isn't very effective.
The site includes customer testimonials
ActivLash – Drawbacks
No clinical studies are provided
The site does not include a FAQ section
No money back guarantees are shown for ActivLash
No free trial is offered
The product may cause an unpleasant tingling sensation when applied
ActivLash must be used continuously to maintain results
ActivLash – The Bottom line
Nothing about the ActivLash eyelash growth serum particularly makes it stand out from the other similar products on the market apart from the fact that it does contain some powerful anti-oxidants in the formula. Price-wise, it fairly expensive, costing $129.00 for a supply that is supposed to last at 4 months. Even so, most consumers would want to see more proof of positive results before spending this amount of money, and until ActivLash can provide that, they may be wise to purchase a more reputable brand.
There are quite a few eyelash enhancing products on the market today, many of which appear to be capable of providing a few key benefits. Specifically, in addition to providing improvements in eyelash length, volume, and texture, an eyelash enhancer should also contain only quality ingredients. Furthermore, these ingredients must be able to nourish lashes so that they stay well conditioned and strengthened against premature breakage. Because of the importance of these characteristics of an ideal eyelash enhancer, along with the large number of eyelash products sold today, we've listed several of our top eyelash enhancers below.
Our Top Eylash Enhancing Products
During our research, the skin care specialists we consulted provided useful tips that contribute to achieving and maintaining beautiful, healthy eyelashes, including the following:
Be certain to consistently apply the product(s) you choose in accordance with its directions for use;
Pay special attention to removing any makeup that you have applied both mascara as well as eye shadow prior to bedtime;
Eating a healthy diet that contains milk and fish can help strenghten eyelashes;
Drink at least eight glasses of water a day to stay well hydrated;
Avoid excessive intake of caffeinated and alcoholic beverages, as they may contribute to dehydration and exacerbate the appearance of fine lines and wrinkles; and
Be sure to get adequate rest every day