Aerobic Vs Anaerobic Exercises: Which One Is Better For Cellulite?
By Gina Chavez
We all know that working out is effective in reducing cellulite. Yet, a few of us may not really be aware of the fact there are some exercises that are tailor made for cellulite.
Physical Exercise Is a Must for Cellulite
A good regimen of physical exercises helps maintain a sound blood circulation and lymphatic flow to keep you generally fit and in good health. If you are obese or overweight, your cellulite condition warrants that you may need to burn out your extra fats through regular workouts, which should be planned rather meticulously.
While exercise generally help you to maintain a healthy body, it also acts as an effective deterrent against cellulite whether you have it or not. Combining a prescribed anti-cellulite treatment method with regular exercises – both taken on simultaneously – will be a good strategy on your part to stay away from cellulite or banish it for ever.
Aerobic Vs Anaerobic Exercises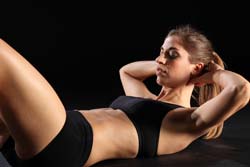 While aerobics basically imply a set of lower-intensity, long drawn out exercises, anaerobic exercises are high-intensity ones undertaken for very short durations to strengthen the muscles in the relevant section of the body. Another implied yet distinct difference is that aerobics entails workouts that need plenty of oxygen to sustain the action for a longer period of time, whereas anaerobic exercises do not need any oxygen intake as they are supposed to last for a very short period of time. Some examples of anaerobic exercises – done in short-bursts extending to two minutes at the most – are sprinting, weightlifting and throwing, etcetera.
Major cardiovascular exercises forming part of Anaerobic , which need a great amount of oxygen to maintain the right energy levels, are walking, jogging, cycling and swimming, etcetera. All these sort of exercises help you in improving your blood circulation as well as the lymph flow in your body that normally equip your system to combat cellulites more effectively. The specific workouts/games forming part of the aerobics are apparently tailor-made for anti-cellulite roles. rather well. These cardiovascular exercises coupled with specific indoor as well as outdoor games such as squash can be enormously effective in exercising the majority of your lower limbs, which are normally vulnerable to the hazards of cellulites.
Which One Is Better for Cellulite?
Both the categories of exercises are proven methods to counter cellulite. The aerobics or cardiovascular exercises are aimed at improving circulation as well as respiratory efficiency. Anaerobic exercises, too, appear to be equally – if not more – useful to fight cellulite as they target the most cellulite-prone sections of the body, such as hips, fat deposits on thighs and buttocks.
Moreover, anaerobic workouts are considered important anti-cellulite measures because they tend to metabolize fats in the localized areas and transform these fats into muscles. This can spell great success for lean women with cellulite conditions since aerobics normally zero-in on their cellulite-prone limbs rather easily.
How Do You Balance Between the Two?
Your cellulite will react very favorably if you can blend both the groups of exercise in to a single, comprehensive routine. Stick to your aerobics (the cardiovascular group of exercise) for four days in a week and taking on the anaerobic lot for the other three days to get the best anti-cellulite effect. You will find to your great surprise that the results can be spectacular – of a kind you probably never expected.
Top Cellulite Creams Product
**This is a subjective assessment based on the strength of the available information and our estimation of efficacy.
*Results may vary. The information contained in this website is provided for general informational purposes only. No medical claims are implied in this content, and the information herein is not intended be used for self diagnosis or self treatment of any condition.
Disclosure of Material Connection: Some of the links in the post above are "associate sales links." This means if you click on the link and purchase an item, we will receive a commission. Regardless, we only recommend products or services which we use personally and/or believe will add value to our readers. We are disclosing this in accordance with the Federal Trade Commission's 16 CFR, Part 255: "Guides Concerning the Use of Endorsements and Testimonials."