Angelina Jolie Makes First Red Carpet Appearance Since Double Mastectomy Announcement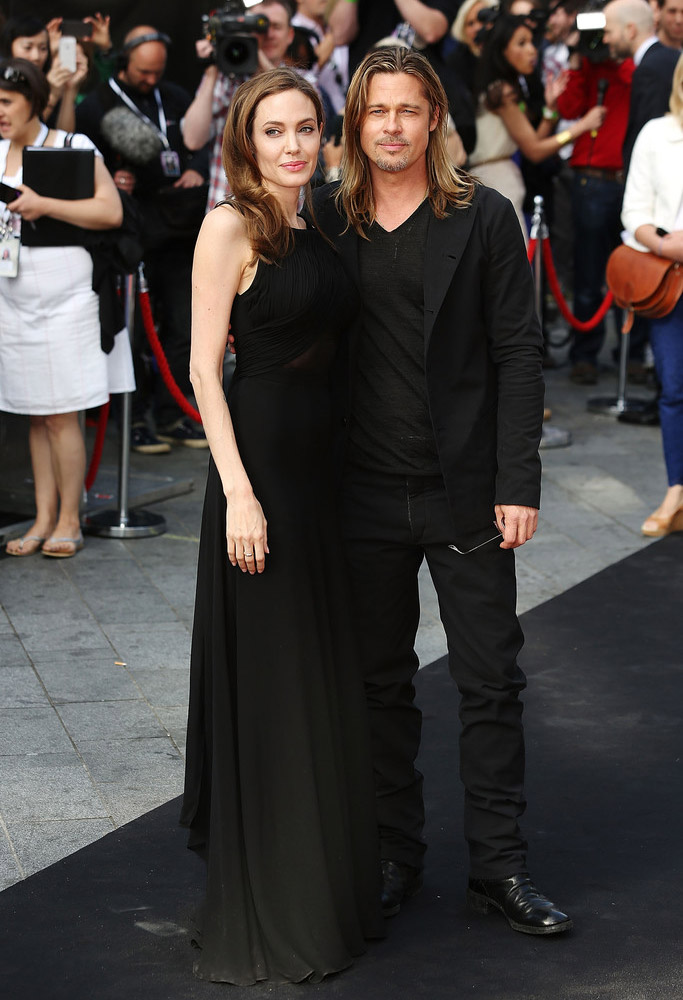 Angelina Jolie made her first red carpet appearance after double mastectomy. Both Brad Pitt and Angelina Jolie were at London for premiere of World War Z.
Jolie's appearance at the London premiere was different from usual; she attracted attention as she hit the red carpet. She made a glorious return to red carpet on arm of fiancé Brad Pitt. Looking stunning and radiant than ever; the 37 year old wore a floor-length black dress. It has draped fabric layers on the high-neck top and transparent triangle across her stomach. It gave her appearance a peak-a- boo shot.
She posed for photographers with her megawatt smile and arm in arm with Pitt. They were holding each other and smiling. Brad too complimented Angelina, dressed in all black with his long hair down. His hair was looked heavily styled and it's almost as longer in length as Jolie's.
Jolie was given a teddy bear at the red carpet. Both of them signed autographs for their fans. The couple brought sons Pax, 9 and Maddox aged 11 at the event held at the Empire cinema.
The actress won the Academy Award four months to this day. She started her three months medical journey that was needed to be proactive action for preventing the risk of cancer. She decided to go for preventive double mastectomy.
She shared her medical decision to remove her ovaries and revealed that she had to undergo double mastectomy. She carried BRCA1 gene which made her predisposed to 87 percent risk to develop breast cancer. She was also susceptible to 50 percent risk to develop ovarian cancer. In 2007, she lost her mother, Marcheline Bertrand to ovarian cancer.
Angelina's announcement had impacted all over and support flowed in. Her first public appearance was more gorgeous than ever, but the fact remains she is bravely battling the loss of her aunt. Debbie Martin, Marcheline Bertrand's younger sister died last week after battling with breast cancer. Her widower, Ron Martin knew that Jolie could not attend his wife's funeral held on Sunday as she already committed with Pitt to attend the WWZ premiere.
She underwent mastectomy this Feb and reconstructive surgery at end of April. Since then, she is with her six kiddos and Pitt recovering from medical procedures.
Photos via zimbio.com, yimg.com