The 127th Annual Tournament of Roses Parade: 1st January 2016
The world's attention is focused on Pasedena, California, USA, home of the Rose parade and Rose Bowl Game, every New Year's Day. Friday, January 1, 2016 will be the celebration time for an event that has taken place for more than a century. Activities include festivals of sports flowers and music that can't be compared to any other occasion across the world. The parade serves as a greeting to the world on the first day of the year, and love and passion of pageantry that have been a common practice in Pasedena for over 100 years.
Combined Manpower
As being one of the largest events in the world, the Tournament of Roses Parade requires around 80,000 hours of combined manpower every year. 935 members of the non-profit Tournament of Roses Association volunteer to provide the required manpower for an organization that is dedicated to present an internationally recognized New Year's celebration. Every volunteer is assigned one of 31 committees, charged with various responsibilities, such as giving presentations about the Tournament to community groups and hosting the press headquarters for media coverage of the Rose Bowl Game.
White Suiters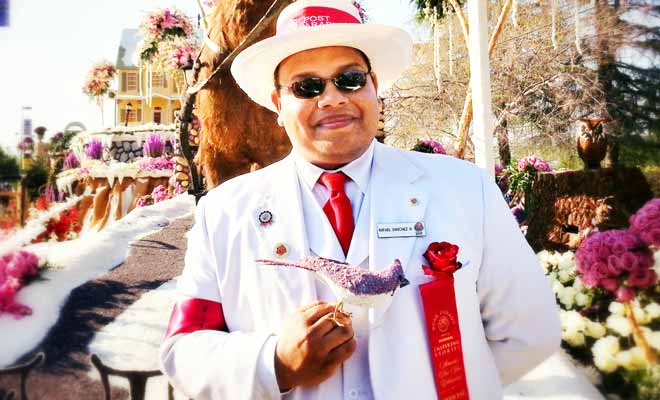 Coined as 'white suiters' due to their distinctive white uniform, the male and female volunteers are prompted to give up their evenings, weekends and holidays to ensure that the parade and game runs smoothly. There is a fulltime staff that offers support and continuity to the volunteer organization.
As it has been the norm, the 127th Annual Tournament of Roses Parade will be broadcasted live in the United States by several media houses and networks.
Grand Marshal
Ken Burns, award-winning filmmaker, who has produced and directed some of the most entertaining documentaries about the history of the United States, was recently announced as the Grand Marshal for the 2016 Tournament of Roses. Aged 62, Burns who has been working on documentaries for 40 years has been honored with dozens of awards, including two Grammy Awards, 14 Emmy Awards, and two Oscar nominations. He will be riding the 127th Rose parade which will be presented by Honda, with the theme "Find Your Adventure" on Friday, January 1, 2015.
The "Find Your Adventure" theme for 2016Rose parade originates from a unique partnership between U.S National Park Service and the Pasedena Tournament of Roses. Burns's documentary series which has been aired for 6 years in a row, "The National Parks" has contributed significantly in propelling parks and the National Park Service into existence.
Burns said that the Rose Parade is an annual tradition woven into fabric of America, and thus having received the honor will be a new adventure for him despite never having attended the Parade in person.
Float Judges
Float judges that have been selected for the Tournament of Roses include Jodie Petersen, Tom Bowling and Timothy Lindsay. They will be presenting awards based on various criteria such as floral craftsmanship, computerized animation, creative design, artistic merit, dramatic impact, and thematic interpretation and floral and color presentation.
Mike Mathiessen, Tournament of Roses president will be announcing the award-winning floats on the morning of January 1, 2016, at Tournament House. Mathiessen said that the floral masterpieces are designed, build and decorated by dedicated teams who have put every effort into perfecting their amazing floats. He is optimistic that their esteemed float judges will utilize their diverse backgrounds and talents in analyzing each float to find out the elements that will help them to better celebrate the many ways through which they will find their adventure in the coming year.
Tom Bowling: He is the Director of Education for Syndicate Sales and moves around the globe researching floral trends in textures, colors, form and patterns, while teaching design programs across the United States and Canada.
Timothy Lindsay: Currently oversees programming, restoration and preservation for Virginia Robinson Gardens located in Beverly Hills. Lindsay also serves as a consultant for architects for restoring historic landscapes and has also taught landscape design at University of California.
Jodie Petersen: A landscape architect for the National Park Service, Denver Service Center and is in charge central planning, design and construction project office for NPS.
Tournament of Roses 2016 Rose Queen
Erika Karen Winter was recently announced as the 98th Rose Queen in a special ceremony that took place in Pasedena Convention Center. She was presented by Citizens Business Bank after being selected from 900 Pasedena-area young women who took part in the Royal Court tryouts. Rose Queen Erika along with the Royal Court will be making over 100 media and community appearances, leading to the 127th Rose Parade which will be presented by Honda and the 102nd Rose Bowl GAmeto be presented by Northwestern Mutual on the eve of January 1, 2016.
Along with six Rose princesses will serve as ambassadors for Rose Queen Erika Winter leading up to the America's New Year's Celebration Tournament that will be held in City of Pasedena, according to President Mike Mathiessen.
Rose Queen Erika Winter, 17, is a student at Flintridge Preparatory School and stays in Pasedena. She is an active member of cheer and dance group as well as a commissioner for a middle school. She is also in charge of the Hip Hop Club and Craft Club. Apart from serving as a peer counselor, Erika also serves as volunteer instructor for autistic dance classes and enjoys singing, acting, spin-cycling and watching hockey.
Conclusion
With so much expected on the 127th Annual Tournament of Roses Parade, you shouldn't miss the event to welcome a new year in style with the hope of finding your adventure. You can also follow the events from the comfort of your home through media platforms that will feature the event live.