Anthelios Aox Antioxidant Serum With Sunscreen Reviews
Advertising Disclosure

?
Anthelios Antioxidant Serum Description
Manufacturers can come up with all sorts of beauty care season after season but, one thing is clear, sunscreen is always in. The Anthelios AOX Daily Antioxidant Serum With Sunscreen $42.50 for 1 oz., provides you with chemical sunscreen protection at SPF 50 and with the power to tame both UVA and UVB. Chemical sunscreens work by absorbing the UVA and UVB, then transforming these to less toxic, less harmful derivatives like heat.
Coming from the sunscreen line, Anthelios OX from La Roche-Posay, Daily Antioxidant Serum With Sunscreen is the first product of its kind to be released under the label that puts antioxidants at the center of its formulation. This product is formulated with an antioxidant complex that consists of Baicalin, Vitamin C, and Vitamin E. Combined, this power of three shields the skin from UV while also revitalizing skin health.
What else can you expect? Unlike most sunscreens that are presented as lotions and creams that often leave a white streak on the face, Anthelios AOX Daily Antioxidant Serum With Sunscreen is formulated as a serum. What that means is no more white streak, no more greasiness on the surface, and more absorbent product that practically becomes invisible in just a few minutes following application.
Over time, expect to see lighter and brighter skin, free from blemishes, age spots and acne marks. With regular use, effectively prevent premature wrinkles and other signs of sin aging.
Anthelios Antioxidant Serum Ingredients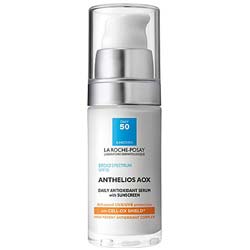 Avobenzone (2.68%), Homosalate (9.60%), Octisalate (2.88%), Octocrylene (5.38%), Oxybenzone (3.46%): Sunscreen
Baicalin, Vitamin C, Vitamin E: Tops up the UV protection provided by sunscreen actives to better shield skin from free radical damage caused by UV
Dimethicone, Cyclopentasiloxane, Caprylyl Glycol: Skin moisturizers that help keep skin well conditioned
Anthelios Antioxidant Serum DIRECTIONS
Apply Anthelios AOX Daily Antioxidant Serum With Sunscreen liberally on your face and skin at least 15 minutes before sun exposure. Reapply every two hours throughout the day.
This product, like any other sunscreen product, will not be able to provide you with 100 per cent UV protection. Complement sunscreen application with physical barriers such as wearing a hat or using an umbrella when out in the sun. Still the best protection is to stay in the shade as much as you can.
Refrain from using on children younger than six months old without consulting with a health practitioner. Pregnant and breastfeeding women must generally avoid using this product to err on the side of safety.
Anthelios Antioxidant Serum ADVANTAGES
Multifunctional: serves as sunscreen, moisturizer and provides antioxidant protection
Helps prevent premature aging
Improves the appearance of skin imperfection caused by UV damage
Anthelios Antioxidant Serum DISADVANTAGES
Avobenzone, Homosalate, Octisalate, Octocrylene, Oxybenzone, and other chemical sunscreen actives can be highly toxic
Two-thirds of ingredients come after phenoxyethanol, a preservative, including moisturizers and antioxidants which means these are present in the product in negligible quantities
CONCLUSION
Sunscreen have to be a staple in your daytime skincare routine, if it isn't already. Anthelios AOX Daily Antioxidant Serum functions as a moisturizer and sunscreen in one. While that's a plus, understanding the labels better is key to know whether or not this sunscreen fits your sun protection philosophy.
Below you'll find some of the most effective Sunscreens formulations on the market in our opinion:
Our Top Sunscreens
**This is a subjective assessment based on the strength of the available information and our estimation of efficacy.
*Results may vary. The information contained in this website is provided for general informational purposes only. No medical claims are implied in this content, and the information herein is not intended be used for self diagnosis or self trealment of any condition.
Disclosure of Material Connection: Some of the links in the post above are "associate sales links." This means if you click on the link and purchase an item, we will receive a commission Regardless, we only recommend products or services which we use personally and/or believe will add value to our readers. We are disclosing this in accordance with the Federal Trade Commission's 16 CFR, Part 255: "Guides Concerning the Use of Endorsements and Testimonials."