Anti-Aging Ren Radiance Perfection Serum Review: What does it do?
By
Ren Radiance Perfection Serum
Ren Radiance Perfection Serum is one of the many anti aging creams available in the market. Before buying it read our Ren Radiance Perfection Serum Review here.
Advertising Disclosure

?
Product Description
REN Radiance Perfection Serum is an anti-aging serum manufactured by REN Skincare, a UK-based company that sells its products in over 50 countries. The manufacturer was founded in 2000 and many of its products have earned positive reviews in well-known beauty magazines. The serum works by toning the skin with its formulaic blend. A 1.02 fluid oz. bottle starts at £35.00 (US$46.29), plus shipping and handling. Products can be returned within 30 days if unsatisfied with the results obtained with their use. Two free samples are included with all orders made from the product's official website.
Ren Radiance Perfection Serum Ingredients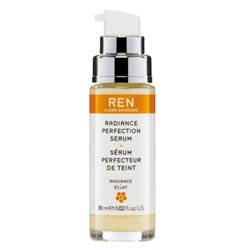 Glabridin: From licorice, this ingredient has been used to treat skin problems because it works as a phytoestrogen. This imitates the hormone estrogen, which stimulates the production of hyaluronic acid and collagen in the skin. It also helps treat skin pigmentation disorders, prevents pigmentation disorders caused by UVB rays and works as an anti-inflammatory.
Vitamin C: This helps fight acne, age spots, helps boost collagen production, and reduces irritation and inflammation.
Hyaluronic acid: This acid naturally occurs in the body and helps firm skin by retaining moisture. It also has antioxidant properties that help prevent further aging.
Glycogen: This ingredient helps reduce damage caused by UVB rays and also has antioxidant properties that protect the skin from further damage.
Magnesium: this trace metal is necessary for various functions in the body. It has been linked to better skin health by dealing with rosacea, acne, and because of its ability to break down oils that clog pores.
Directions
The serum should be applied before regular moisturizer in the morning and under night cream at night for best results.
Ren Radiance Perfection Serum Advantages
The serum is manufactured by a reputable company.
There is a 30-day return period for the product in case a customer decides it isn't right for them.
Many of the ingredients have shown they are efficient at fighting signs of aging and improving the skin.
Radiance Perfection Serum has good customer reviews on third-party merchant sites as well as its own website.
Samples are included with every order from the official website.
Products are safe to use while pregnant.
Ren Radiance Perfection Serum Disadvantages
Exact amounts of the ingredients are not listed.
Samples are given with each other, but such samples are not sold for customers to try before ordering.
Due to risk of allergy in those with skin issues, the manufacturer suggest testing the product on a small part of the skin before use.
Conclusion
REN Radiance Perfection Serum is sold for $39.00 making it quite affordable compared to many anti-aging products in the market. The serum also comes with a 30-day guarantee and can be safely used by those who are pregnant, as well as people with most skin types. The manufacturer also includes a list of ingredients so people can check with a skin care professional before using the product. However, the amounts of ingredients are not listed. A product that lists this might be more appealing to certain customers.
As we age the composition, texture and appearance of our skin changes. Signs of skin aging include wrinkles, fine lines, loss of moisture, uneven tone, and dull, tired-looking skin. There are countless anti-wrinkle creams on the market promising to make skin look and feel younger. Many anti-wrinkle creams promise everything short of a facelift or to provide the much sought after "fountain of youth". In reality most are just moisturizers marketed as anti-aging products.
Below you'll find some of the most effective wrinkle serum/cream formulations on the market today, in our opinion.
Our Top Anti Aging Products