Anti-Cellulite Diet
By Gina Chavez
It's a known fact that keeping yourself fit through a healthy regimen of diet and physical exercise is absolutely essential if you want to stay prevent, or reduce, that repulsive dimpling we call 'Cellulite'.
Importance of Diet and Cellulite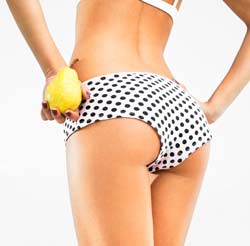 For people afflicted with cellulite, diet is a vital factor that can influence the condition, while an unhealthy diet can make cellulite worse, cellulite-friendly nutrition will go a long way in helping you to control your condition effectively. The impact of good or bad food on our health is not only specific to cellulite. All the same, we will discuss the importance of diet as it pertains to cellulite.
Many experts believe that a few alterations in your dietary habit can substantially prove more effective than any costly cellulite treatments in reducing your cellulite. As a matter of fact, some of them say that the process of cellulite reduction starts with changing bad eating habits and switching to healthier ones. Some others even go to the extent of saying that an extremely streamlined dietary habit could keep you away from the menace.
How Does Diet Impact Cellulite?
Consumption of any kind of food high in fat easily converts to body fat. As such, it not only adds to your weight, but enlarges the fat cells anywhere in your body including the subcutaneous layer under the surface of your skin thereby increasing your vulnerability to cellulite.
On the other hand, carbohydrate-rich food tends to be more nutritious in the sense that it aids to speed up metabolism in your body to assimilate more energy and burn your calories more effectively. As such, a well-balanced diet in conjunction with a good regimen of exercises will always assist you to keep cellulite at bay.
Diets Considered Good for Your Cellulite
A few of the items that are known to prevent Cellulite and which should form part of your daily menu are:
Fruits & Vegetables. A rich source of carbohydrates, fresh fruits and vegetables are considered excellent food materials for cellulite-affected people. In case you can make it a habit to eat more fruits/vegetable – including ones that are high in antioxidants – your body will be able to combat cellulite more effectively.
Fish and Poultry Products. Fish and fish oils are good for human health in general and for your cellulite in particular. Fish helps in enhancing elasticity of blood vessels and in lowering blood fats. Poultry, being a lean meat unlike other fat-rich meat products, is also considered very beneficial for cellulite conditions.
Water. This cheapest form of nutrition is extremely useful to keep you away from the hazards of cellulite. While some declare that too much of water may act negatively in cellulite conditions, drinking sufficient water (at the rate of eight glasses a day – say about two liters) is normally excellent for body-cleansing as also to drive your toxin out.
The ones mentioned above are only a few major diets recommended to enable you to steer clear of cellulite. You may be able to find many more if you talk to your doctor or a good dietician. They will also tell you about the ones you should avoid – such as fatty meat, alcohol, coffee and of course, junk food.
Top Cellulite Creams Product
**This is a subjective assessment based on the strength of the available information and our estimation of efficacy.
*Results may vary. The information contained in this website is provided for general informational purposes only. No medical claims are implied in this content, and the information herein is not intended be used for self diagnosis or self treatment of any condition.
Disclosure of Material Connection: Some of the links in the post above are "associate sales links." This means if you click on the link and purchase an item, we will receive a commission. Regardless, we only recommend products or services which we use personally and/or believe will add value to our readers. We are disclosing this in accordance with the Federal Trade Commission's 16 CFR, Part 255: "Guides Concerning the Use of Endorsements and Testimonials."