Antioxidant Rich Diet for Younger and Beautiful Skin
The Center for Disease Control and Prevention estimates that by 2030, Americans 65 years and older will make up 20% of the population, and will peak at 72 million in the next 20 years. This is why the spotlight is focused on preventing aging and enhancing longevity by delaying senescence.
What is Senescence and how does it Affect your Skin?
When we are born, our cells are programmed to make us grow into adults and then, just like a machine exhibits signs of wear and tear over time, our body processes slow down. Among the most glaring signs that we are aging include, longer time it takes for a wound or injury to heal, slower metabolism, and a wrinkled skin.
There are factors other than natural senescence that make cells age. These factors include stress, emotions and how bad or well we manage these. It also includes environmental stressors like UV exposure and pollution, and is exacerbated further by our eating habits and lifestyle choices. Smoking and excessive alcohol consumption are particularly damaging to your cells. What make these factors skin damaging are what are called free radicals.
The trouble with free radicals are that these are unstable atoms or group of atoms that tag along an unpaired electron which can easily snatch another atom from an otherwise healthy cell, causing a series of chemical reactions that generates more free radicals and more damages to the body at the cellular level.
How an Antioxidant rich Diet can give you Great Looking Skin?
To inhibit cellular damage, free radicals must be minimized. Numerous studies have found out that antioxidants can do so, either by converting free radicals to a non-damaging state or, by supplying that extra electron needed to neutralize the unstable electron found in free radicals.
Antioxidants are naturally produced by your body but, because of senescence, it produces it in much lower amounts as you age. That's why you need to boost your skin's antioxidant levels by supplementing through your diet or via topical application of antioxidant-rich creams. Studies have proven that combining both methods is best for your skin.
Below are seven groups of the most powerful antioxidants. Make it a habit to incorporate foods mentioned for each of these groups, listed below: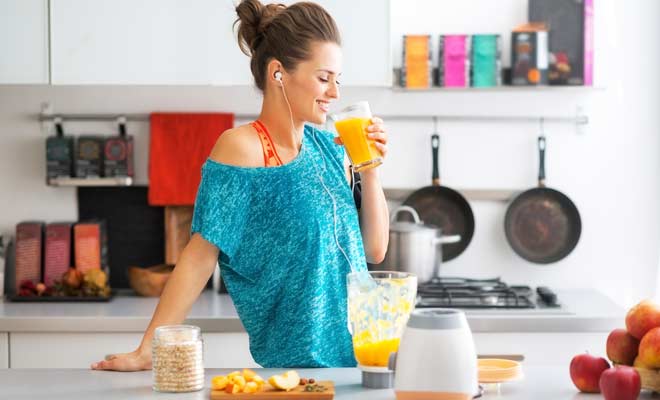 1. Vitamin E: nuts including almonds, walnuts and hazelnuts, also sunflower seeds and wheat germ
2. Vitamin C: citrus fruits including lemon, orange, grapefruit, lime, pineapple, strawberries, raspberries and kiwi
3. Glutathione: avocado, grapefruit, strawberries, peaches, melons, asparagus, spinach and squash
4. Alpha lipoic acid: meat, particularly animal liver, kidneys, heart and lungs, and vegetables including spinach, broccoli, rice bran, green peas and potatoes
5. Melatonin: rice, barley, bananas, sweet corn and tomatoes
6. Carotenoids: carrots, sweet potato, paprika, cayenne
7. Flavonoids: any kind of tea but most especially black tea, coffee, leafy greens, onions, parsley, lettuce, blueberries, and tomatoes
You May Also Like – Essential Vitamins in Skin Care Products
Conclusion
It can be too easy to surrender to aging and stay helplessly embattled by it. With a conscious effort, however, there are ways by which you can support your body – and, your skin – to inhibit signs of aging so that you can live a fuller life and enjoy healthier looking skin well beyond 65.
Like this post? There's more. Get tons of beauty tips, tutorials, and news on the thebeautyinsiders Facebook & Twitter page. Like us on Facebook – we'll see you there!
Skin Brighteners aid in reducing post-inflammatory hyperpigmentation revealing even skin tone. Skin brighteners also can help revitalize tired and dull skin resulting in a youthful, healthy glow.
Below you'll find some of the most effective skin brightening products on the market today, in our opinion.
Our Top Skin Lightening Choices