Atelier Versace Collections Spring/Summer 2012
For spring/summer 2012, the newest Atelier Versace collection is absolutely astonishing as it is seen being modeled by the beautiful Abbey Lee Kershaw. Versace is famous for its feminine creations that exude both elegance and style, which is expressed in the released Atelier lookbook. This lookbook features the latest fashion style with surreal dresses that are very glamorous and showcase a woman's figure with the soft, silky fabrics used.
Breathtaking is the one word that can be used to describe the spring/summer 2012 Atelier Versace collection. This collection consists of beautiful evening gowns, which are dreamlike, elegant, sensual and feminine. Any women would love to be dressed in these long or short dresses that are made of silk crepe, organza, satin, chiffon, silk tulle with eye catching embroideries and embellishments.
Flowing bustier evening gowns in lacquered red and indigo silk look amazing with sparkling sequins and bejeweled crest. Along with that, an enchanting silk organza bustier dress that fades from nude to old rose creates an incredible visual effect.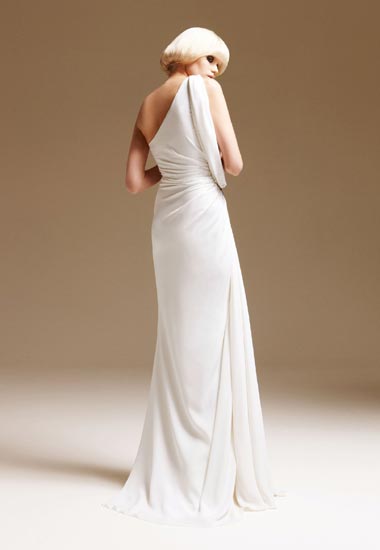 To complete the spring/summer 2012 Atelier Versace collection, elegant looking mini-dresses are introduced. There is no doubt that many would love the long sleeved peacock green chiffon dress with embroideries as well as the long sleeve mini-dress with jungle print embroideries on silk material. These dresses offer a lot of style and elegance, which will surely boost any woman's confidence.
Feminine fashion trends will certainly always be in style. Transforming glamour into feminine and elegant styles through soft fabrics is what Versace is known for. The 2012 spring/summer Atelier Versace collection is inspired by enchanting, fairytale dresses that combine warmth and femininity. The sweet colors and details used are combined with sexy elements from nude shades and low cuts, which exude sensuality.
The colors and fabrics of these dresses are definitely eye catching, but more importantly one cannot miss out on the intricate details of the beautifully embroidered dresses that are nothing but glamorous. Fundamental pieces to creating these amazing dresses include embroidery of sequins, Chantilly lace, fishnets, threads, crystals and jais.
It is clear that the 2012 Atelier Versace collection for new season offers silhouettes that are very feminine, elegant, and sophisticated. Other than the popular bustier dresses, one shoulder and two-strap gowns are also one to watch out for. With these beautiful, unique creations, it isn't a surprise that celebrity's fall madly in love with these dresses for Hollywood events.
Image source – Atelier Versace