Aurealux Eye Gel Review: Does it Work?
By
Aurealux Eye Gel
Read, Aurealux Eye Gel Review, Know how it moisturizes the delicate skin around the eyes. Click to know in outs, & complete info on Aurealux Eye Gel Review.
Advertising Disclosure

?
Aurealux Eye Gel is an anti-aging formulation from Dolce&Gabanna. It is a formulation that refreshes, soothes and moisturizes the delicate skin around the eyes. The product claims to revive tired-looking eyes quickly and reduce aging signs specifically fine lines, dark circles and eye puffiness. It is formulated with innovative bounce-back technology and a special anti-aging blend from D&G. The product uses a special combination of natural ingredients and vitamin B3 in order to hydrate the skin and improve its elasticity. One container (15 ml) of the anti-aging product is being sold online for $72.
The product is from Dolce&Gabanna which is a well-known fashion brand. The company has been offering skin care formulations for some time already. Their products are known for high quality but the prices are on the high side compared to other skincare brands.
Active Ingredients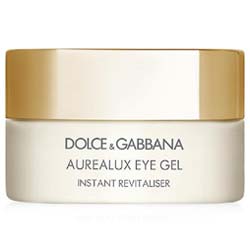 There is only one active ingredient mentioned on the Aurealux Eye Gel webpage in the Dolce&Gabanna website which is:
Gold Flavo-silk Tricomplex – This is a special blend of gold silk sericin, Vitamin B3 and Italian olive oil extract. It uses silk sericin from gold silk cocoons which is combined with the finest Italian olive oil and highest quality vitamin B3. The active ingredient has been tested by researchers from San Gallicano Dermatological Institute in Rome and it has been shown to be effective in promoting and preserving the skin's captivating beauty. It infuses moisture and strengthens the skin, restoring its youthful elasticity.
Directions
Begin by placing a small amount of the formula on the back of one hand in order to break the gel before applying it on the eye area. For puffiness, use the tip of your ring finger to gently tap on the eye contour starting from the outer corner inwards. For dark circles, gently massage the formula onto the area using an upward motion then repeat two times. Use in the morning and evening preferably after applying the Dolce&GabannaAurealux Cream.
Pros
The anti-aging gel is from a well-known brand
It contains an active ingredient backed by science
The product is designed specifically for eye puffiness and dark circles
There are many good reviews from people who have tried it
Cons
Aurealux Eye Gel is expensive compared to other anti-aging eye formulations
There is no money back guarantee unlike most skincare products
The product isn't designed to diminish wrinkles and crow's feet
Some feedback from users say it is not really very effective
Conclusion
All in all, Aurealux Eye Gel is a good anti-aging product for the delicate eye area. It is formulated for eye puffiness and dark circles which are the most problematic aging signs in the eye area. The eye gel is from a well-known brand so the high price is understandable. There is mixed feedback on the product so it is not for everyone. If your aging issues are primarily dark circles and puffiness then this product is worth trying. However, if you want to treat moderate to severe wrinkles, it would be better to look at other formulations formulated for such aging problems.
The most common eye area issues are puffiness, dark circles, wrinkles and crow's feet, and loss of hydration. There are countless eye creams available on the market today, making it seem nearly impossible to find the "right one" that meets our specific under eye needs. It is imperative to find a product that has been formulated to address a variety of complex eye area problems.
Below you'll find some of the most effective eye cream formulations on the market today, in our opinion.
Our Top Eye Creams
Also Remember These Dermatologist Recommended Important Tips:
Age has nothing to do with the lines that appear on the corners of your eyes... it's a combination of heredity and careless abuse of the area.
Skin is skin... it all needs to be cared for in one way or another. For my younger readers, this means not pulling on the skin when removing eye makeup.
The eye area is prone to fine lines and wrinkles, so it is really important not over-work the area, squint, and stay away from smokey rooms. Your eyes won't like that either.
One of the best ways to protect this area of your face is to put on a pair of sunglasses every single time you go outside spring, summer, fall and winter.
There are very few oil glands in the eye area, so it can dry out very quickly, especially if you spend a great deal of time out of doors.
When you chose an eye cream, be sure to choose one that is especially formulated for this delicate skin. Don't use a day cream that could be full of ingredients that will irritate this area. Too rich a cream can cause as many problems as ignoring the area.