Back to School Hairstyles – 7 Hairdos you can do in 5 Minutes or Less
Know about 7easy to make hairstyles for a School that can take 5 minuute or less to make it.
It's almost time to go back to school! Shake off those blues by adding a little excitement on your crowns. Here are 7 ways you can keep your hair trendy and neat:
1. Half-pony with twisted sides. Cut your hair into two halves. From the top of your forehead, make tiny twists, adding a little bit of hair as you go down from the top, to the sides, then to your back. Stop at the point where you would usually let a half ponytail hang. Tie it with a thin, black rubber band. Do the same trick on the other side of your head. Then, tie both ends together to form a half pony. For best effect, let some of the hair on the side hang loose and not too tight.
2. Side braids
Halve your hair into two. Tie up one side so it does not get in the way. With half of your hair hang-ing from your shoulders, divide into three smaller sections. Start braiding – alternate top and bot-tom until you reach the end. Tie it up. Do the same for the other side.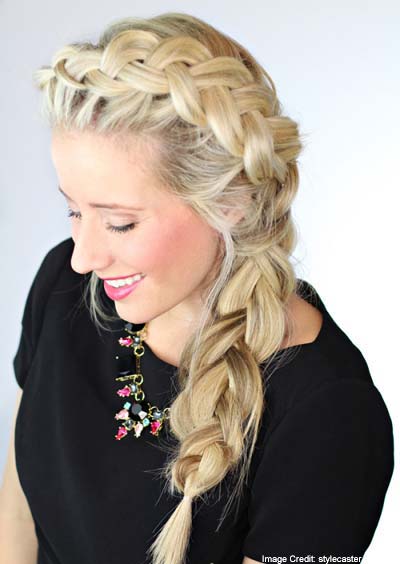 3. Single Space Bun. Tie your hair up midway into a pony. Take your scrungies to cover your rubber band. Next, spread the lower part of your hair around the scrungies. Using another rubber band, keep your hair in place by tying around the hair and scrungies. Use two hairbands to make sure it stays in place in case one of the rubber bands snap. Hide excess hair around the scrungies using bobby pins.
4. Glam Curls
Tie all of your hair up. Using a hot barrel curler, curl each using smaller sections of your hair. Curl from tip to the knot. Do the same repeatedly until you've curled all sections of your hair. Remove the pony and run your hands through your curls for a more natural finish.
5. Low, Elegant Buns. Comb your hair and keep in place with a spray net. Run a fine-toothed comb then split your hair into two. Holding both sides, tie your hair into a knot twice. Make sure the knots are tight. Using bobby pins, hide the excess hair below the buns.
Read Also – Beautiful Braided Updo Hairstyle for Wedding
6. Ponied Braids
Tie up your hair in a pony. From the point where the knot is, start braiding all the way to the tips. Tie the ends with a sturdy rubber band.
7. Accordion Hair. Start pulling up sections of your hair into a pony. Begin by pulling back hair from your forehead. Then, pull up the next section then tie up with the first pony, then so on and so forth until you reach the end.
You May Also Like – The various Updo Hairstyles for Women
Conclusion
You shouldn't have to spend hours fixing up your hair with these 7 back-to-school hairstyle options. The best part is, these are so simple, you can do it right on the spot— no practice required!
Like this post? There's more. Get tons of beauty tips, tutorials, and news on the thebeautyinsiders Facebook & Twitter page. Like us on Facebook – we'll see you there!