Banish Cellulite Through Anaerobic Exercises
We all know that exercising is effective for cellulite conditions – both cardiovascular as well as the anaerobic versions. However, did you know that some of the anaerobic exercises are tailor-made for cellulite?
Anaerobic Exercises for Cellulite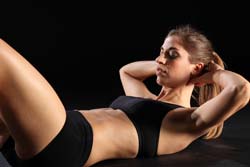 Even though anaerobic exercises undertaken outdoors can be more effective against cellulite , we will name a couple of techniques carried out indoor at your local gym – such as leg curl and squats, which are especially tailor-made for an anti-cellulite role. Step-by-step procedures for these cellulite exercises are given in the subsequent paragraphs.
Leg Curls
This is one exercise that can be done right at the beginning or at the end of your cellulite exercise routine. Pick the first set of weight that you feel comfortable with. Go on increasing the weight with subsequent rounds. For example, follow the sequence given below:
Choose a set of 50 pounds and do about 10 repetitions.
Take a break for at least 2 minute.
Now pick 60 pounds and exercise again in the same manner.
Repeat the whole procedure for one more time with a heavier weight.
Squats
The squat exercise undertaken to reduce your cellulites has a few variations. You can either do it with an exercise ball, bench, or a Smith machine. It is advisable that you pick one of the three methods alternately every other day to deal with your cellulites.
Exercise Ball Squat. This workout with an exercise ball will enable you to do more number of squats in comparison with the other methods. The sequence should take the following form:
Try to stand with your back touching the wall.
Keep the ball directly behind you and squat on it.
Bounce yourself to go up slightly with every rebound.
Repeat the exercise as long as you feel comfortable.
Bench Squat. This is another simple squat exercise. You may repeat the process any number of times to get the best benefits against cellulite. However, staying focused and taking small breaks in between will make the exercise more effective. Follow this sequence:
Place a chair or a bench on the ground.
Take a posture as if you are trying to sit, yet without actually sitting on the bench.
Keep on lowering yourself slowly and steadily – as low as you can without actually sitting down and then straighten yourself up to a standing position.
Repeat the exercise. You will be able to feel the pressure being exerted on the muscles of your thighs and buttocks that are to be more susceptible to cellulite conditions.
Every time you raise yourself, try to squeeze in your buttocks as much as possible. You can do as many squats as you like, but take a break in between to get better results.
Smith Machine. Smith machine enables you to do squats and lounges to combat your cellulite. You can simply begin with the bar and then go on adding weights for better results. The procedure involves the following:
You should put a soft padding on the bar to protect your neck from hurting.
Position the bar behind the neck over the shoulder.
You can, optionally, place a bench on the ground to combine bench squat with smith machine exercise – to alternately stand and lower yourself.
Focus on using your heels to push yourself up to prevent hurting your back.
If you feel that you are rather forced to use your back muscles, reduce the weight immediately.
Repeat the exercise for three sets with 10 to 15 reps.
In order to obtain a fairly good result against your cellulite, the anaerobic exercise schedules should be done 3 days in a week for at least 15 minutes every day. Undertaking cardiovascular and anaerobic exercises on alternate days will be extremely useful to reduce or stay away from cellulite.
Cellulite can affect people of all ages and body types and can be notoriously difficult to get rid of. While there are certainly no miracle cures, using specially formulated creams and treatments along with a healthy diet and exercise plan can reduce the appearance of the dimpled skin affected by cellulite. Creams and lotions that contain stimulating ingredients such as caffeine are particularly beneficial as they help move toxins out the body while other natural ingredients are used to condition the skin, giving it a firmer, tighter appearance which further reduces the look of the affected area.
Top Cellulite Creams Product