Beauty Pageants
Many people have heard about beauty pageants and wonder how they work. If you are thinking about being in a beauty pageant, then you may want to know what it is that you are getting into.
What Is A Beauty Pageant?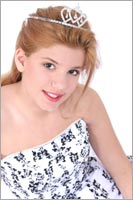 A beauty pageant is something that many women will do in order to get money to help fund their college education as well as to be a part of something. There are also pageants for young children whose parents want to get them some money for college or to let them have fun with a pageant. Most states have beauty pageants for the girls and the boys that may live in the state.
How Do They Work?
Many beauty pageants will work in the same kind of way. They will get people to sign up for the pageant. You will pay a small fee in order to participate and then you will be given the rules and when the pageant will occur. There will usually be a formal, swimsuit and interview part of the pageant that you may participate in. The judges will then choose a group to go on the next level of competition. Then they will compete for the winning position.
When you win a pageant, you will most likely be given a crown as well as a cash prize that can be used for their college education or to improve their lives. You may then be asked to come back next year to give the crown to the next winner of the pageant. They may also put your name on a plaque that is kept in the venue where the pageant takes place. This can be a great honor for you if this is really important to you.
Why Do A Beauty Pageant?
You may be wondering why you would want to even be in a beauty pageant. You may want to enter one so that you can get some money to help with your college education or because you want to have something that looks good on your resume'. You may also just want to be in a pageant to say that you did one in your life. All of these reasons are good if they are important to you and your life.
Beauty pageants are something that many people want to do. If you decide that you want to try one, make sure and take the time to understand what it is that you are going to be getting into. This will also help you to really know if you want to do the work to go into the beauty pageant at all. If you are a parent and a child has decided that they want to participate in a pageant, you may not know what kind of work it takes to really get your child up to where they need to be. Take the time to find out what you are going to need to do and what is expected of you.