6 Beauty Tips for Clear and Vibrant Skin to keep You in Light all Day
Everyone desires for a complexion that is naturally beautiful with glamorous look. Such a vibrant skin can be achieved by proper nourishment and skin protection. Here is the secret behind that clear and vibrant skin:
1. Hydration
It is recommended to take at least 8 glasses of water daily for a well hydrated skin. Water assist in flushing out toxins leaving the skin glimmering and rejuvenated. Non-caffeinated drinks can also be used as an alternative hydrating agent. Raw food like salads is also a good source of water.
2. Exfoliation
Exfoliation gets rid of dead skin cells that clog on the skin surface causing dullness. It is advisable to exfoliate once in a week especially those with dry and flaky skin. Oatmeal is a natural exfoliator. To use it, mix grounded oat with water and apply on the skin. After it dries rinse with warm water. Raw organic apple cider vinegar is also a skin natural exfoliator. It comprises alpha-hydroxy acids, which give a balance and maintain the PH of the skin thus achieving that glowing complexion. Equal proportions of water and apple cider vinegar is mixed then applied on the skin gently and rinse after five minutes with lukewarm water.
3. Protection
Application of sunscreen every time one is getting outside prevents damage of the skin from direct sun rays. Apply a moisturizer and a foundation alongside with sunscreen. Wearing a hat and an overhead cover up protects the skin from direct sunlight that can be potentially harmful to the skin.
Washing your face before you sleep assists in removal of dirt and makeup that accumulate blocking the pores causing skin breakouts. Cleansing also prevents smearing bacteria on the pillow. A proper protection of the skin helps in maintaining the skin glow with minimal dermatological issues.
4. Prevent Acne before it starts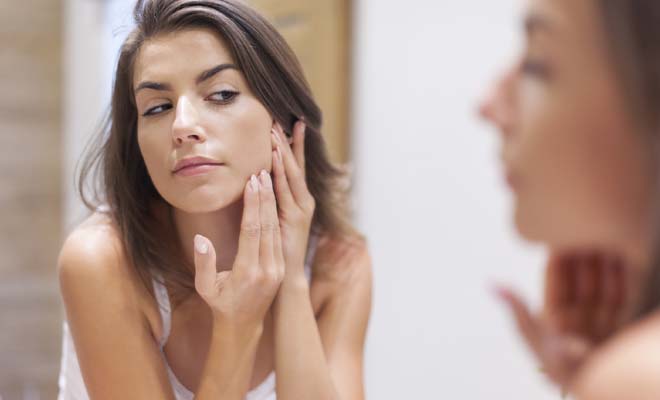 Acne can be prevented by changing pillowcase after every four days, avoiding the contact of hands and face while asleep, avoiding stress, and change of family planning method if you suspect it is the cause of acne. Getting rid of excessive oil by cleansing the face before you sleep minimises the appearance of acne.
5. Moisturize
Application of suitable lotion keeps the skin moist the whole day. Moisturizing your skin at night is of great significance in getting rid of wrinkles and self-repair of skin cells. Light moisturizers are recommended at day-time to avoid breakouts.
6. Eating a Healthy Diet
Eating healthy, supplies the body with proper nutrient proportions that plays a vital role in maintaining that vibrant skin. A combination of fruits, vegetables, and proteins makes the skin to glow hence a brighter appearance. Fish is rich in omega 3 fatty acids, which is of great benefit to the skin. Fruits are rich in vitamin C which promotes faster healing of pimples.
Conclusion
From the experts, it is easier to achieve and maintain a glamorous and vibrant skin if one first identifies their skin types and follow precautions on how to care for each type. It is not necessarily to use expensive beauty products to achieve the vibrant look, there are natural ways of caring for the skin and obtain the best results.