10 Best Foundation that will Help Conceal Your Acne
A large number of people are affected by acne but it becomes worse once it affects the face. Most people usually run for the short cuts inorder to cover up itscolor appearance. You may not want to sacrifice your skin because of a mere outbreak called acne. Then there is a solution to this problem; there plenty foundations that came by inorder to cub this problem. There are full coverage foundations that are able to conceal your acne. Different brands are able to conceal the acne that affects your body. These include:
1. Clinique Acne Solutions Liquid Makeup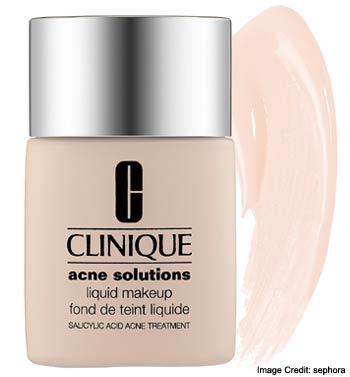 This is a product that act effectively in order to minimize this problem that has affected so many people. It acts as a perfect moisturizer, cleanser and a foundation for the ones affected with the acne. It clears the acnes accordingly providing positive results that will make you to devote yourself to the foundation. This foundation is oil free and therefore perfect for neutralizing the redness and giving you the right complexion that you need.
2. Lorac Natural Performance Foundation
This is a natural foundation that offers a good and weightless coverage that usually last for a long period precisely a whole day. This product is free from oils and fragrances. This frees the skin from irritation which can result to further breakouts. The product ingredients which reduce the redness and soothe in skins which are sensitive. The ingredients are vitamin A, Premier olive and xyleine.
3. Stila Natural Finish Oil-Free Make up
This product is rich in viscosity but it's free from oil therefore making it have a thick consistency. It reduces the appearance of shine on the body because of its matte finish. Thefoundation has a variety of shades that can match the makeup to your complexion regards of the skin which is affected with acnes.
4. Clinique Ant-Blemish Solutions Liquid Makeup
This is a lightweight foundation which has algae components together with hydroxydecanoic acid to prevent and treat acne therefore concealing it. The product has component like caffeine which alleviate irritation to acne prone skin.
5. Laura Mercier Oil-Free Foundation
This foundation soothes the skin prone to acne therefore maintain moisture without enhancing oil buildup together and clogging of the pores.
6. E.I.F Acne Fighting Foundation
This foundation fights, heals and soothes acne breakouts. It offers the photo-ready appearance. It works acne causing bacteria throughout once it is applied. One layer is usually enough for a full coverage. This makes one tube to stay for months.
7. BareMinerals Blemish Ready Foundation
This foundation offers a wide coverage for the natural appearance. Since it has the tea tree oil and the Aspen bark to sooth as it treats the acne then this is among the best foundations.
You may also like – Top 9 Foundation Mistakes Which are Made Quite Often!
8. Shiseido Sheer and Perfect Foundation
This foundation conceals redness together with blemishes because of the infused optical powders. This optical powder prevents discoloration and complexion of the skin.
9. Almay Clear Complexion Makeup
This product targets sensitive skin which is infused with oils. This foundation contains salicylic acid infused with a number of ingredients in order to reduce dryness . It eliminates the redness and discoloration.
10. The Neutrogena Skinclearing Liquid
This product is used to eliminate the shine as a common problem to those people whose skin is prone to acne.
Conclusion
Acne is a skin problem which makes people uncomfortable but with the above foundations, people's happiness has been rejuvenated.
Like this post? There's more. Get tons of beauty tips, tutorials, and news on the thebeautyinsiders Facebook & Twitter page. Like us on Facebook – we'll see you there!