How to Get Emmy 2016's Award Winning Faces by Using Your Makeup Right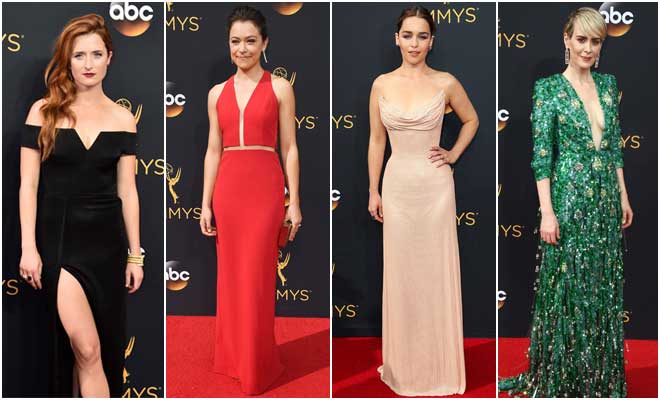 The just concluded Emmy Awards 2016 just recognized the most talented production crew and actors of primetime tv. As you may have guessed, the verdict has also been cast on this year's best and worst dressed.
Complete the Emmy 2016 look you're eyeing with a makeup to match. Here are your top five options:
1. Sarah Paulson
The night's Outstanding Actress winner sported a blonde, short haircut. Her eyebrows were lined in dark brown. A subtle orangey eyeshadow lined her eyelids. The same color was used to line her top and bottom eyelids. Eyelashes were curled up and coated with thick mascara. A lip in old rose completed her toned down makeup which was a great fit that did not overwhelm her already eye catching emerald green, sequinned Prada dress.
2. Michelle Dockery
"Downton Abbey's"Lady Mary Crawley was every bit a standout in Oscar de la Renta. Her hair was curled and parted with more volume over her left side, curls left hanging loose over her left shoulder. Eyebrows were left thick in Ash. She had a slightly smoky eye using onyx and mauve gradients. To get this look, deposit both colors on the corner of the eyes then gradually move inwards up to the half of the eye only. Highlight the tear glands and color your lips in dark fuchsia.
3. Carly Chaitkin
"Mr. Robot's" Darlene was a gothic goddess on awards night. She wore full black on with lacey and mesh details. Her face was flawless. Her eyebrows were framed in ash and was left clean and bushy – no straight lines. For her eye makeup, a gradient of nudes on the more yellowish, orangy side created a flattering shadow for her eyes. It was topped with a winged eyeliner with her waterlines likewise heavily coated in black. Smartly pair with a nude lipstick in mauve and peachy cheek blush.
You May Also Like: TIFF 2016: The Best Dressed Celebs on the Red Carpet to Watch Out For
4. Tatiana Maslany
The Outstanding Lead Actress in a Drama Series winner wore very little makeup. Brows deliberately left less than perfect, greyish and mauve eyeshadow gradient, no eyeliners, sheer mascara and powdery pink lips. This nude makeup showed off the actress's naturally gorgeous tan and was a perfect fit for her already stand out red ensemble. Tatiana plays the role of Sarah Manning in "Orphan Black".
5. Emilia Clarke
"Game of Thrones'" Daenerys Targargen suitably complemented her nude, Atelier Versace dress with a slightly darker, purplish eye makeup. Her eyebrows were left full, thick, black and bushy. Under eyelids were left subtly lined with just a hint of her purple eye makeup. A light pink cheek blush and pink nude lips with a bit of shine completed her look.
Conclusion
Sheer, light and almost like it's never there — It's the defining look of TV's most glamorous stars on the night of the Emmy's Awards 2016. This trend gives you another great reason to leave your skin to take the spotlight and do the talking.
Like this post? There's more. Get tons of beauty tips, tutorials, and news on the thebeautyinsiders Facebook & Twitter page. Like us on Facebook – we'll see you there!