Rio Olympics 2016: The Most Defining Moments of World's Best Athletes
The much talked about Rio Olympics finally came to a close on 22 August, following 16 days of sports competition amongst world class athletes, all desiring to be the fastest, highest and strongest in their leagues.
As the 31st Olympiad closes, it's time to look back at 10 of the most epic moments that will live on in the history of the world's greatest games:
1. The first-ever Refugee Team was formed and participated in the Olympics. The team was composed of athletes from Syria, Ethiopia, South Sudan and the Democratic Republic of the Congo.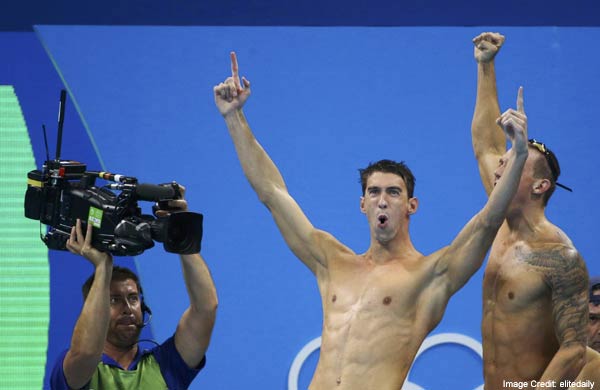 2. American swimmer, Michael Phelps becomes the most decorated Olympian of all time. Phelps' olympic winning history has garnered for him 23 Olympic gold medals from his top rank performance in four olympics, including five golds and one silver from Rio. He did not win any medals on his first stint in Sydney.
3. The only event Phelps did not win, he lost to 21-year old Singarean swimmer, Joseph Schooling. He won the first ever Olympic gold medal for swimming by beating the best olympian there is. Phelps has announced his retirement.
4. African American swimmer, Simone Manuel, bagged the first ever individual gold medal in swimming after besting the women's 100-meter freestyle event.
5. Amidst American and Muslim relationship controversies in US elections, American fencer Ibtihaj Muhammad became the first-ever Muslim American athlete wearing a hijab to bring home an olympic bronze medal for the US. The US Team also includes in its roster, Dalilah Muhammad who won an olympic gold medal for the 400-meter hurdles.
6. Simone Biles holds top honors in Olympics and world titles. Biles won four olympic gold medals in Rio, and one bronze medal for the women's beam.
7. Jamaican sprinter, Usain Bolt made his dream of a gold 'triple-triple' come true in Rio having won gold medals in 100-meter and 200-meter dash and the 4×100-meter team relay. Bolt has announced his retirement.
8. Usain Bolt and Canadian sprinter Andre De Grasse have been snapped with what seems to be Bolt handing over the future of the sport to De Grasse.
9. Puerto Rican tennis player, Mónica Puig Marchán was the surprise olympic gold medalist in the women's finals, becoming the first Latin American to ever win the olympic gold in this event. Puig, ranked world's no. 33, faced Germany's Angelique Kerber, world's no. 2, in the finals.
10. Bahamas sprinter Shaunae Miller won the olympic gold for the 800-meter dash, beating US Allyson Felix, by diving into the finish line.
Conclusion
The Rio Olympics was evidently marked with some of the finest moments in athletic history. As Japan's Prime Minister Shinzo Abe takes the olympic flame from Rio 2016 to Tokyo 2020, history is set to happen in four years once again.
Like this post? There's more. Get tons of beauty tips, tutorials, and news on the thebeautyinsiders Facebook & Twitter page. Like us on Facebook – we'll see you there!