Reading Time:
3
minutes
What Is BioClarity Acne?
BioClarity Clear Skin System, US $29.95, is a 3-step acne treatment solution that comes with 3 products that complement each other and work together to give you clearer and blemish-free skin.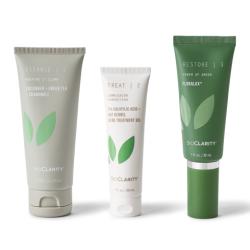 This BioClarity acne system consists of the following:
Step 1: Cleanser, 2.25 fl. oz.
Step 2: Acne Treatment, 1 fl. oz.
Step 3: Restore Gel, 1 fl. oz.
BioClarity is a brand conceptualized, formulated and distributed by Adigica Health, Inc., a direct-to-consumer-run health and wellness company. One of the primary product lines is skincare products. BioClarity is specially focused on clearing up blemish-prone and acne-prone skin, and keep it that way, but it may cause skin irritation.
BioClarity Acne — Does It Really Work?
Based on claims made by the manufacturer, this product has been formulated to deliver for you the following benefits:
Beat acne-causing bacteria.
Treat existing acne and prevent future skin infections.
Deliver a deep soothing and calming relief to your skin.
Relieve your skin from redness and swelling to promote a more even skin tone.
Brighten, purify and clarify your overall skin complexion in just 2 weeks.
What Are The Ingredients In BioClarity Acne?
Floralux: Relieves inflamed skin to promote a more evens skin tone.
Green Tea: Improves antioxidant protection.
Chamomile: Has a calming effect on skin but it may cause skin irritation like redness or rash on skin.
Licorice: Lightens dark marks and brightens overall skin tone.
Oat Kernel: Has anti-inflammatory[1] properties, it also helps restore your skin's ideal moisture level.
How To Apply BioClarity Acne
As per manufacturer guidelines, to use the 3 products in the BioClarity Clear Skin System:
Cleanser: Apply on damp skin and rinse thoroughly after with lukewarm water.
Acne Treatment: Spot treat.
Restore Gel: After the acne treatment has completely sank into your skin and dried out, spread the product thinly all over your skin, making sure the whole of your skin surface is covered.
Benefits Of BioClarity Acne
BioClarity Clear Skin System is recommended by the manufacturer to be safe for use on all skin types but may cause skin irritation.
The manufacturer guarantees that this product has never been tested on animals.
Disadvantages Of BioClarity Acne
Based on reviews, different people appear to respond differently to this product.
The BioClarity acne system offers little deviation from common acne treatments, apart from the Restore Gel.
It contains Chamomile[2] which may cause skin irritation like skin dryness or redness.
Does BioClarity Acne Have Any Side Effects?
Based on the ingredients and reviews, the following side effects may be experienced when using BioClarity Clear Skin System:
Skin irritation and allergic reactions due to several ingredients, including botanical ingredients and several synthetic components.
Increased risk for neurotoxicity due to methylisothiazolinone and phenoxyethanol.
Read Next – Skincerity Acne Treatment Reviews
Final Verdict : BioClarity Acne Treatment
The best part about BioClarity Clear Skin System is that it gives you a more holistic approach to treat your acne. The official product website even discusses other lifestyle changes you can make to restore your skin's health and clarity. At the bottom line, however, it doesn't look much different from other straightforward acne treatments that are available for less dollar. It offers 100% satisfaction guarantee.