Boots No.7: Does Boots No.7 Work?
By
Boots No.7
An exclusive review of Boots No.7 Product, Know more about Boots No.7 Product, its pros & cons on the beauty insiders.
Advertising Disclosure

?
Boots No. 7 Protect & Perfect Beauty Overview
Nearly 150 years after its launch, UK-based Alliance Boots is a leading pharmacy-based health and beauty company offering a vast range of products and services through close collaboration with manufacturers and pharmacists. Understanding the supply-chain, the company maintains two core business models: one geared toward "pharmacy-led health and beauty retailing" and the other "pharmaceutical wholesaling". Peaking to international proportions, privately-owned Alliance Boots is currently established in over 15 countries. Built on partnership, trust, service, entrepreneurship and simplicity, the company's mission is to deliver products that "help people look and feel their best". Their history includes the development of several brands including: No7, Soltan, Boots, Botanics and Almus.
Boots' Internet presence spreads across two websites. Boots.com is the sales portal designed to market its brands. The site's sky blue and white design with hints color on the right associating each of the company's brands provides access to the company experts, media, store locator, cosmetics, skincare, hair care, healthcare, bath and body, plus products links across the top. Along the bottom are the company's favorite offers including media mentions, special offers, product top ten, contests and a skincare analysis tool. The home page also boasts of new developments and easy availability through partnerships with Target and CVS Pharmacy among others. The second site is Boots-plc.com, Alliance Boots, the manufacturer's web presence. In green, blue and white, the site explains the evolution of the company, its mission, business models, commitment to social responsibility as well as media and career information.
Boots No. 7 Protect and Perfect Beauty – Product Description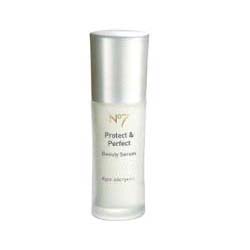 Maintaining a placeholder in the body care, skincare and cosmetic industry is Boots No7 brand. With the tagline "Be a confident beauty with No7" the brand is proclaimed the number one cosmetic and skincare brand in the UK. For over 70 years No7 has provided women with gorgeous cosmetics in satisfying textures and amazing shades. In skincare, No7 offers the daily essentials as well as the latest in anti-aging technology.
The skincare branch of the line includes radiance enhancers, cleansers, toners, anti-aging, specific issue targeting for skin, eyes and the lips, as well as moisturizers and masks. Within that line are sub-categories that target the skin's specific needs such as Boots No7 Refine and Rewind, Boots No7 Protect and Perfect and Boots No7 Cleanse and Care.
The Boots No7 Protect and Perfect line offers a Beauty Serum that is not specifically mentioned on the website. While not indicated, there's a possibility that it has been replaced with Boots No7's Restore and Renew Serum. Third-party descriptions for the Boots No7 Protect and Perfect version indicate the serum smoothes the skin's surface with continual use to reveal clear radiant skin. Its ingredients include an antioxidant complex that fights free radicals and a retinol formula that increases firmness and sustains elasticity. Offered for less than $20, this product with less than perfect reviews appears to have limited availability.
Boots No. 7 Protect and Perfect Beauty Advantage
Boots No7 Protect and Perfect is built on the long skincare and health history of its manufacturer.
Boots No7 Protect and Perfect Beauty Serum earned near perfect reviews.
Boots No. 7 Protect and Perfect Beauty – Drawbacks
The Boots No7 Protect & Perfect Beauty Serum no longer appears to be available outside of EBay.
A content list is omitted.
There are few reviews for the Boots No7 Protect & Perfect Beauty Serum.
Boots No. 7 Protect and Perfect Beauty – The Bottom line
Alliance Boots' No7 skincare brand has an impressive background with nearly 150 years of industry experience and worldwide reach. Unfortunately, Boots No7 Protect and Perfect Beauty Serum is not easily available. The lack of a direct connection to the similar Restore and Renew line breeds distrust. The moderate review and drugstore price point suggest it's effective and economical if not as enduring as its core brand.
As we age the composition, texture and appearance of our skin changes. Signs of skin aging include wrinkles, fine lines, loss of moisture, uneven tone, and dull, tired-looking skin. There are countless anti-wrinkle creams on the market promising to make skin look and feel younger. Many anti-wrinkle creams promise everything short of a facelift or to provide the much sought after "fountain of youth". In reality most are just moisturizers marketed as anti-aging products.
Below you'll find some of the most effective wrinkle serum/cream formulations on the market today, in our opinion.
Our Top Wrinkle Creams
Dermatologist Recommendations for Maintaining Younger, Healthier, Vibrant Looking Skin:
Be certain to consistently apply the product(s) you choose in accordance with its directions for use;
Pay special attention to your neck and hands while applying the product(s) you choose, as these areas reflect your age;
Always use sunscreen with a Sun Protection Factor (SPF) of at least 15;
Drink at least eight glasses of water a day to stay well hydrated;
Avoid excessive intake of caffeinated and alcoholic beverages, as they may contribute to dehydration and exacerbate the appearance of fine lines and wrinkles; and
Be sure to get adequate rest every day.