Bouffant Hairstyle: Evergreen Hairstyle of the Century
A Bouffant hairstyle is a popular and classic hairdo. Maria Antoinette popularized this do in Europe back in the 18Th century and it made its way back in the 1960s. Today, when people go to formal events, they consider having a bouffant as it is very feminine. It also creates an illusion of a smaller and longer face which most women dream of having.
Now, you don't have to go to the salon just to get a bouffant hairstyle. You can do it on your own and it is really very simple. All you need is a small toothed comb, hairspray, hair gel, blow dryer, a round brush and a curling iron. Surely, you have all these at home and making a bouffant won't be a problem for you.
You start by washing and drying your hair then applying hair gel all over. This means that you don't have to tease the hair just to get it up. After applying the gel, blow-dry your hair upside down, this will create the height for the bouffant. Use the large round comb when blow drying so it creates large rolls. After that, use the curling iron to create larger rolls. This will make it easier to increase height. Once done, use the comb and back comb you hair slowly. Style it the way you want and use hair spray to put it in place.
Before, teasing the hair is the process used to increase height for hair updos but this can damage the hair. Although some people still practice teasing, some hair stylists look for a way to add volume and height without doing this.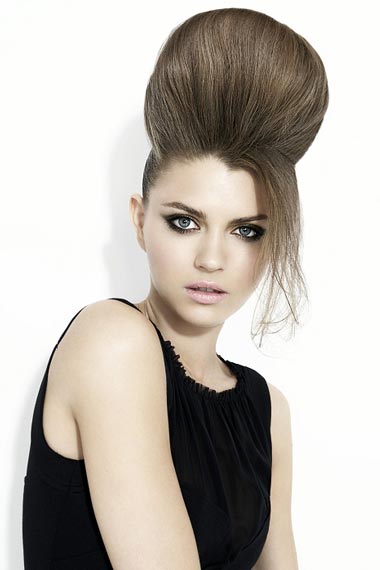 Oh and before you forget, once your bouffant hairstyle is styled, you can simply put a bow headband of your choice just to add a finishing touch to your do.
Photos via ukhairdressers.com