How to Get the Unique and New Look with the Braided Topknot Hairstyle?
When it comes to the style and beauty, hairstyle plays an important role. This is obvious by looking at the following braided topknot hairstyle trends. These designs help emphasize an individual's edgy style.
Hairstylists are always trying to come up with unique hairstyles so that people can have a new look after every session of hairstyling. These styles are also compatible with the new fashion trends. When it comes to coming up with new hairstyles many hairstylists offer stylish braided hairstyle. This spring season Sass & Bide braided hairstyle has been introduced that has become very popular.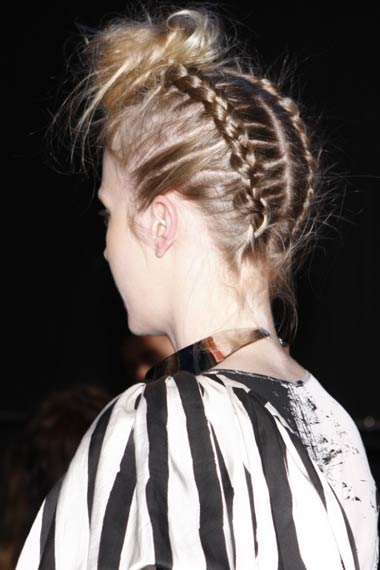 If the styling is done correctly then the braided hairstyles look amazing. When it comes to hair braiding techniques then there are various options. Sass & Bide hairstylists have successfully combined the elegance of bun hairstyles with the fabulous French braids. This unique combination not only looks stylish but also very attractive. It provides a very good option for women who love being the center of attention. Women having long hair length and with powerful personality are especially going to like this hairstyle.
Sass & Bide hairstyles have managed to achieve the great versatility that is available with the braided hairstyle and long hairstyles. There are two special styles that remain on the back of the head. It heads upwards and finishes in a beautiful top messy bun. It produces the new Sass & Bide hairstyle that looks very stylish.
Whether it is a straight or curly hair, this type of hairstyle suits everyone. The only condition is that the length of the hair should be appropriate so that this hairstyle can be created.
To create such beautiful hairstyles one needs to have some skill or take help of a friend. Using a rat tail comb, the hair should be parted into two sections. It should be parted from the top of the head towards the neck. The thin hair strands should be separated using the rat tail comb's tail. This way one can style a French braid from the neck towards all the way up. Then the braids should be closed with the head pin so that it does not come out loose. In the same way other section of the hair should be braided. Thereafter the two braids should be joined. Using the hair elastic, a messy bun hairstyle can be created. Now the hairspray can be used to keep the hair in place. One is sure to look stunning with such a unique and attractive braided topknot hairstyle.
Photos via fashionising.com