Brunette Hair Highlights 2012
Your hair is your crowning glory. Hairstyles 2012 is about bringing in life and luster to your hair, and giving an overall new look to your persona. A trend nowadays is towards hair highlights. Brunette hair highlights in hot shades will not only boost up your self-image but also make you the center of attraction. With a variety of shades to choose from, you can either go for the stylish and refined ones or be among the ones to be bold and effervescent.
For the natural flamboyant style for the season, the hair coloring idea is to spread the color over your head. Coloring the top strands of your hair not only gives the bounce and volume to your hair, but also gets you the look you are waiting for. To enhance the hair color or change it completely, you need to understand the versatility of hair color trends. Browsing through the color charts and getting the visual picture of the effects of the color dyeing techniques on your hair, helps you choose the one best suited for you. The brunette hair highlights always complement the dark toned hair. Depending on your hair tone and the colors in vogue, going in for stylish highlights and defining the shades will surely make you the gorgeous one in town.
Brunettes have a very flexible hair color which creates scope for them to experiment with different shades and tones. Darker skin tones should opt for warmer shades like honey, caramel, or brown. These color shades with gold shimmer complement their locks. These combinations are best for the long locks and gives a very graceful look. A stocky highlight on a brunette hairdo will give a totally different outlook. On the other hand a highlighting thin strands are for the delicate and elegant.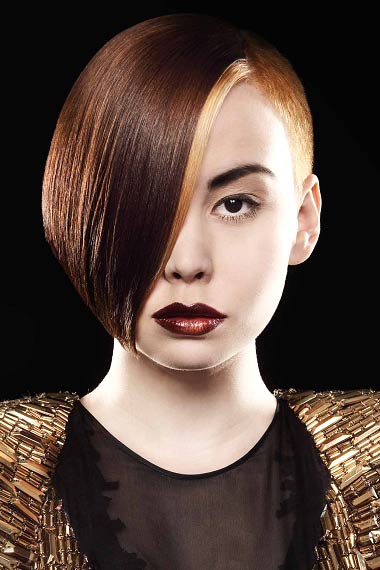 For the bold ones who prefer coloring their tresses with their signature style, the color chart gives you a choice of more radiant ones. Red, purple, pink, reminiscence of fruits of the season are trendy hair colors. These colors are wearable and are sure to make you stand out in a crowd! But a right attitude is necessary to carry what you wear.
When you are ready for a change, hairstyles 2012, the hair color trends of the season or innovative hair coloring ideas from your hair expert can support your brainwave. An appointment with a hair stylist will help you decide on the colors that will best suit your personality.
Photos via ukhairdresser