Reading Time:
3
minutes
What is BustBomb?
BustBomb is a breast enhancement supplement that is formulated with natural ingredients including Fennel, Fenugreek and Blessed Thistle.
Intended to be taken at thrice daily dosing, this supplement has been claimed to improve your breast size and obviously benefit flat-chested women or, and those who just desire more mass on their breasts. This formula may also work for those who just want to make their breasts appear firmer and more shapely.
BustBomb – Does it Really Work?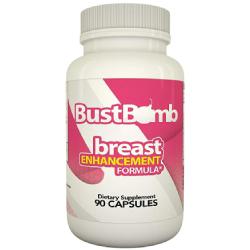 The ingredients added to BustBomb include those that have been traditionally used for growing the breasts.
It must be noted, however, that many of these components have more anecdotal than scientific backing in terms of their respective effectiveness in actually delivering added volume and firmness to the breasts.
What Are The Ingredients In BustBomb?
BustBomb Ingredients are:
Saw Palmetto Berries: This enhances breast growth and development by inhibiting the production of male hormones. It has been recognized to deliver androgen-blocking properties that allow female hormones to influence your body, including increasing stimulation of breast growth and development.
Fenugreek Seed: It has natural estrogenic properties that influence the rate and volume of estrogen produced by your body.As a result, higher amounts of fluid and more breast tissues are formed at any given time, giving the breasts greater mass that makes it look fuller and firmer.
Fennel Seed: There are plenty of antioxidants in this natural ingredient. Its estrogenic effects have also been reported to affect estrogen production and breast development.
Mexican Wild Yam Root: It supports breast tissue growth and development by protecting breast tissues from deterioration. In effect, there is a larger volume of breast tissue that is available that is also stronger and more capable of supporting more fats and fluids.
Blessed Thistle: It drives up fluid production in the breasts which makes your breasts grow and appear larger. This property has been derived from its well-known ability to help induce lactation among nursing mothers.
Atlantic Kelp: It replenishes lost nutrients that enhance the health and development of your breasts. It also improves metabolism which enhances cellular energy, spurring better breast health and growth in the process.
Alternatives to BustBomb Reviews
How to use BustBomb?

Take three capsules of this product, one with every meal, every day. Keep in mind that it takes a minimum of three months for results to become felt and be fully visible.

Benefits of BustBomb

This product is formulated with ingredients that are non-habit forming.
One bottle contains 90 capsules which will last you for a month.
Reviews highlight how this product is made with all-natural ingredients that have been used for centuries to help enhance breast size.
Dosage instructions are easy-to-follow and compliance should not become much of a problem.
It provides a better and safer alternative to breast augmentation surgery, and there is no downtime to worry about.

Disadvantages of BustBomb

This product should not be expected to deliver instant improvements to the size of your breasts as it takes at least 60 days for improvements in bust size to become the least noticeable.
Reviews indicate how users are gravely divided over the performance of this product, showing how half are satisfied while the remaining are dissatisfied with its performance.
This supplement costs relatively more than most other breast enhancement supplements in the market.
Product reviews warn of possible minor side effects including weakness, feeling of fatigue, hormonal imbalance, and acne breakouts.
There is no official product website where information about this supplement may be validated and its makers track record may be established.

Does BustBomb Have Any Side-Effects?

Side effects of BustBomb are:

headaches
dizziness
hormonal imbalance
acne breakouts

Is it worth buying BustBomb?

Reviews show that BustBomb is not too different from most other breast enhancement supplements that promise to deliver similar functionalities, using almost the same lineup of ingredients.

Like most other supplements, its makers also fail to provide proof of claims and are likely to have 50-50 chance of working out positive results for you.

Frequently Asked Questions About BustBomb:

What is the Price of BustBomb?

BustBomb sells for $29.95 per bottle containing 90 capsules each.

Where to buy BustBomb?

This supplement is available online, that includes via leading online retail sites.

Should I use the BustBomb once or twice daily?

BustBomb must be taken three times daily, each one with every meal.