Coffee Crush Exfoliating Peeling Gel is a face exfoliant that promises to reveal your more radiant and more youthful complexion.
Skin Exfoliator is a key step in any balanced skincare routine when done correctly and it include clear pores, better circulation, and an even skin tone.
Celestolite Radiant Body Exfoliant is ideal for dry skin. Made with sea salt and mineral oil, this exfoliant gently sweeps away dryness and restores moisture.
Real Chemistry Luminous 3-Minute Peel is rich with anti-oxidants, twice daily just 3-4 drops of environmental rescue serum produces invisible armor with reparative capabilities.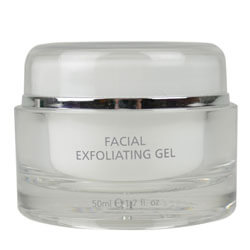 L'Aveu's Facial Exfoliating Gel gently exfoliates the skin by removing dirt and oils to reveal a more rejuvenated, healthy-looking complexion.
Meladerm AHA Exfoliating Serum is purified skin blemishes and eliminates skin damage and gently sweeps away dead skin to reveal smoother, clearer-looking skin.
Peter Thomas Roth Pro Acid Peel is a potent facial peel that helps uncover skin and it looks renewed, radiant with a complex of three high-potency acids.
La Mer Refining Facial is an exfoliating treatment's fermented sea muds and pure diamond powder instantly polish skin to reveal a translucent-looking complexion.