Effisoy provides relief from terrible menopause symptoms. Effisoy relieves anxiety and depression, helping women cope better with menopause.
Equelle is a supplement that is targeted toward relieving hot flashes and other symptoms of menopause including muscle aches and mood swings.
MenoSense is a menopause formula designed to provide support for symptoms associated with menopause, such as hot flashes and night sweats.
Equate Menopause Support is a drug and estrogen-free supplement designed to ease menopause symptoms like irritability, night sweats, and hot flashes.
Estroven Menopause Relief + Weight helps to fight hot flashes and night sweats, and CQR-300 supports metabolic health and serotonin balance.
Estroven Complete Menopause Relief has reduced hot flashes & night sweats, boosts energy, helps to manage daily stress, irritability, and menopause-related anxiety.
Progesterall is a cream intended to balance out hormone levels in the body, particularly in those with low progesterone.
Herbal Equilibrium is a healthy product rich in immunity-building antioxidants also it is an herbal menopause product that aims to balance out the hormones.
Menstium is a dietary supplement aimed to help reduce negative mood swings, tenderness, and other premenstrual syndrome-related symptoms.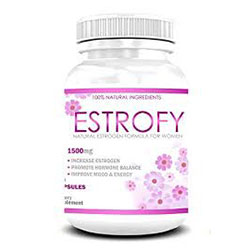 Estrofy is a natural supplement made for women to help support menopausal women maintain ideal energy levels.
Menoxcel is a dietary supplement designed to quickly reduce the severity of hot flashes and night sweats also restore complete hormonal balance.
Femme Balance is a specially formulated organic topical cream intended to reduce some symptoms associated with menopause.
MenoEase 360 is a natural supplement specially formulated to fix various menopausal symptoms and discomforts also helps improve your mood.
Nature's Best Soya Isoflavones is a unique formulation of isoflavones from soy, magnesium, and hibiscus, to support you through menopause.