Celebrity Inspired Pink Hairstyles Ideas for Spring 2011
Now that winter is over it is time to celebrate with a new hairstyle! If you need some color inspiration, well you are in luck. We have put together a list of the best heads in Hollywood sporting pink hair in honor of spring and the bright, blooming colors that accompany it. Will you have the courage to try one of these styles?
PRETTY IN PINK
Ready to welcome your leave from the deep winter trenches and do something crazy with your hair? You might be the kind of person whose heart pounds when you go in for a one inch trim, but once you see what some of the hottest celebs have pulled off, you might feel a little more daring, gather your courage and tell your stylist to take off two inches.
PRETTY PINK LOCKS BY LILY ALLEN
Even celebs in the Hollywood like to play with their look. This feminine hairdo, accented with a perky lace ribbon is more upbeat than Lily's traditional mournful black mop head.
PINK HAIR BY KELIS
It looks like the boys brought a strawberry milkshake to the yard and inadvertantly spilled it on her cropped head of cotton candy colored hair. Way to go, Kelis!
PINK BRAIDS BY GWEN STEFANI
While Gwen Stefani has been around long enough to be old school, she is also an incredible ponytail prodigy. She is always switching it up by cycling through various pink hues, although these days as a mom she seems content with blonde locks.
PINK IN PINK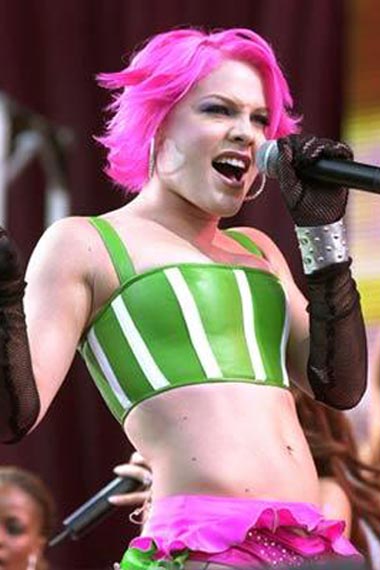 Naturally we include the attractive pop star. Pink built her career with this pale puce — and it has been totally rewarded. We really love Pink's rocking punk hairstyle.
Photos via sheknows.com