Celebrity Summer Accessories 2012
Celebrities are known for always having modern accessories that complement their style and their outfit. This summer is now different. In this article, we will take a look at some celebrity summer accessories 2012.
One of the first celebrity accessories to be noticed is blinging chain necklace and brown beaded necklace. Victoria Beckham has been quite devoted to her chain necklace previously. She constant wore it to another occasion in London. Another celebrity Hilary Rhoda was spotted at an event in Sagaponack NY. Her striped maxi skirt is a modern pick to a miniskirt, while a shortened sink and light wash denim jacket cheer summer season. Fawn sandals and a beaded necklace accomplish her appearance. This unique look is becoming trend as many famous people are wearing to a large number of events.
Secondly, celebrities are wearing simple outfits complemented with retro sunglasses along with stylish hat. Although this look is not recent, the newest thing is turquoise frames. Many stars are taking on this exact piece, creating a casual, trendy look. Eva Mendes was recently spotted in LA wearing current tortoise shell sunnies that feed into her retro style and Nicky Hilton was seen with Panama hat to protect herself with Sun.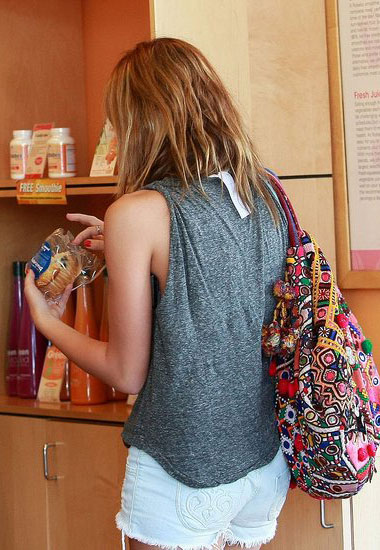 The care-free look of celebrity summer accessories is epitomized in fringes. Weather its sandals, booties, or bags, the fringe look is everywhere between most of the celebs. Their look adds to the free-spirited feel of celebrities' newest style. Check out Miley Cyrus colorful gypsy chic bag which adds instant pop to her look. Rachel Zoe's beige Chanel bag which is too fabulous. Also don't forget to see Miranda Kerr carries a slightly different Balenciaga bag and Cheryl Cole can't get enough of Jimmy Choo Handbags.
Finally, every celebrity is carrying around a bold bag this summer. No matter what the occasion, the newest thing is to sport trendy, large coach bags that make a statement.
Although each celeb definitely has her own distinct look, there is a common thread. By combining these newest accessories with super stylish outfits, celebrities are making more of a statement than ever. From turquoise sunglasses to bold bags, summer's style is in.
Image source – fabsugar & bagthatstyle