Three Famed Celebrity Workout Routines
Looking at celebrity's great bodies is a great way to be motivated and inspired to do things to achieve a hotter and more attractive body. But aside from the motivation and inspiration, celebrities can also teach you various effective workout routines that can definitely help you achieve the body that you most wanted. Below are some celebrity workout routines that are proven effective:
Celebrity Workout Routines from Jennifer Aniston
Jennifer Aniston is a well-known actress. Everybody loves Jen not only because she has face like an angel but also because she has a gorgeous body. She's definitely hot! Aniston knows the importance of being healthy and having a sexy body that everybody would envy. Hence, she uses her spare time doing workout routines to maintain it. She runs and does yoga at least three to four times in a week. She also shared her beliefs on doing these exercises in the morning to have the energy and great mood throughout the day. On top of these workout routines, Jennifer Aniston also follows a well-balanced diet.
Celebrity Workout Routines from Katy Perry
Katy Perry is another famous celebrity today. She's well loved by everybody especially those who adore her hotness. Unlike other celebrities, Katy's secret to be motivated to do workouts is to make it more fun. She does it by working together with her partner Russell Brand. This hot couple is not too fond of doing workouts inside the gym. These two prefer to do their thing outside by cycling. Katy and Russell believe that cycling helps a lot in training their upper body and legs while it also strengthens their heart. They also said that cycling really makes you sweat a lot which is a good indication that you are burning more calories.
Celebrity Workout Routines from Helena Christensen
Helena Christensen is one of the most famous supermodels today. She shared the hardships of maintaining the sexy body she has today. She owes it to her strict diet and walking. Yes, Christensen is fond of walking and it is her way to work her butt and legs. She said walking definitely do wonders for her gorgeous body.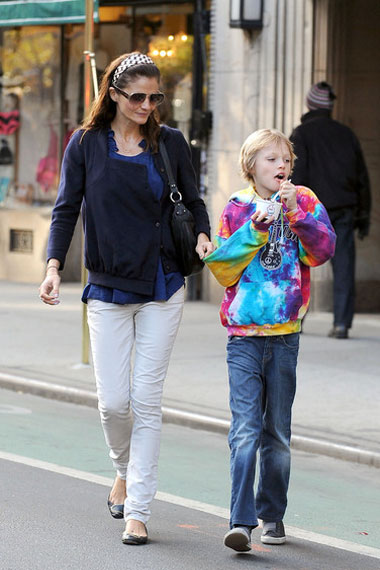 Photos via zimbio.com