Celebs Amazing Nails at VMAs
No doubt the most gorgeous preg lady Beyonce had taken away the VMA red carpet 2o11 show,but now we can focus on the most happening things of MTV VMAs.Other than the stunning looks of celebrity and striking accessories they had wore,it's their nail art that is more inspirational for the youngster to follow.
If you want to a make perfect paired of nails and your fashion then just admire Demi Lovato and Mika Newton.Demi Lovato has haunting Disco sparkles on fergie like pointy nails with the similar glittering grey dress while Mika Newton has a simple solid gold to match her dress.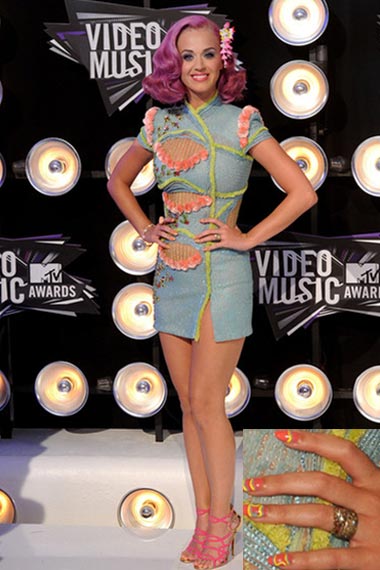 Katy Perry is the undisputed queen of nail art and she never disappoints with her manicures.So VMA is no exceptional for her nail art trend.If you want to try a multiple colors over your nail then just follow Katy Perry's 80s-looking coral/yellow nail designs but if you want something crazy in nail art then you should go with Snooki's an unusual nail shape and for that you have to make your nails wider at the tips than base.
Photos via glamour.com