Cellulite Treatment through Acoustic Wave Therapy
One of the latest procedures to enter the arena: AWT – It promises you a wonder-treatment in getting rid of your cellulite condition. It is not only the cellulite that AWT cures. Its sound waves bring your skin a new texture, new glow and a renewed strength, apart from the menace of cellulite.
What Is Acoustic Wave Therapy?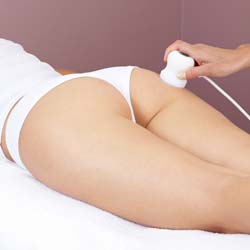 Acoustic Wave Therapy (AWT) is one of the newer methods for the treatment of your cellulite. First developed in Switzerland, AWT is a totally painless procedure employing acoustic waves (a kind of sound pulses) to mend the connective tissues in the subcutaneous layer under the surface of your skin to banish your cellulite.
In fact, the sound pulses inherent to AWT have long been used successfully for numerous pains arising out of poor blood circulation as well as for aching joints/tendons. Later on, AWT was also found to be of great help in improving the texture of the skin before being considered for cellulite related problems.
The therapy was finally launched to for its anti-cellulite after it was proved through research that the sound waves can treat the cellulite conditions rather effectively. Moreover, AWT also found to be useful for enhancing skin's elasticity and to make it softer/smoother by rejuvenating the underlying collagen.
How Does AWT Work On Your Cellulite?
For cellulite therapy, AWT employs the pressure waves that can conveniently pass through your skin and penetrate into the subcutaneous layer to trim your enlarged fat cells, boost the blood flow and loosen up the connective tissue layers as well. This is achieved through an acoustical device that facilitates delivery of the sound waves past the skin and fatty tissues to reach the affected fat cells. The ensuing acoustic pulses stimulate vibration in the connective tissue of the cellulite-affected fat cells. The non-invasive action thus results in better circulation because of the augmented vascularization. The introduction of a new set of thickened collagen around the skin helps to flatten the unsightly cellulite dimpling thrusting from under the surface of the skin. In addition to dealing effectively with your cellulite, the AWT process also aids in smoothening and strengthening your skin too.
The AWT procedure can easily be used to treat cellulite condition occurring on any part of your body – the most vulnerable areas being the thighs, hips, buttocks and abdomen. A single AWT session of anti-cellulite treatment lasts for about 30 minutes with the complete package consisting of a minimum of six sessions – two per week for three weeks. You should also try to get at least one follow-up anti-cellulite treatment every three months to sustain your cellulite-free condition. The number of treatment sessions will have to be increased in case of larger coverage of skin area.
Beneficial Features of AWT
Various benefits offered by AWT for the treatment cellulite are:
AWT happens to be one of the most cost-effective methods available in the market for treatment of cellulite – a single session costs about US$75 to USD$100. The total cost will vary depending on the size of the area required to be covered.
AWT is a painless, risk-free procedure to treat your cellulite.
Side effects are minimal with a little bruising being the only possibility.
Involves very short duration for ant-cellulite treatment (less than 30 minutes per sitting).
Fast result – a maximum of three weeks to get rid of your cellulite (as claimed by many providers).
All these plus points of AWT make it sound rather good. All the same, you must consult your doctor and seek expert views before deciding to go for the actual treatment of your cellulite by AWT sound waves.
Cellulite can affect people of all ages and body types and can be notoriously difficult to get rid of. While there are certainly no miracle cures, using specially formulated creams and treatments along with a healthy diet and exercise plan can reduce the appearance of the dimpled skin affected by cellulite. Creams and lotions that contain stimulating ingredients such as caffeine are particularly beneficial as they help move toxins out the body while other natural ingredients are used to condition the skin, giving it a firmer, tighter appearance which further reduces the look of the affected area.
Top Cellulite Creams Product