CelluRex Review: Ingredients, Side Effects, Detailed Review And More
By
Advertising Disclosure

?
What Is CelluRex?
CelluRex, a product created by JabaLabs, is advertised as a safe and useful anti-cellulite cream. Based on its website, CelluRex is actually promoted as the best there is in the market. However, claims like these should be backed with research and clinical studies conducted by top scientific organizations.
CelluRex – Does It Really Work?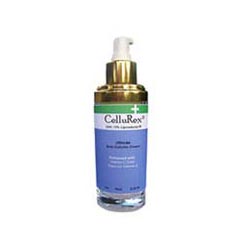 CelluRex is a topical cream that contains Liporeductyl, a patented formula that contains Tripeptide-1, which is a protein derivative utilized as a skin-moisturizing agent. Although there are many anti-cellulite creams that use Liporeductyl, a proprietary formula created by a Spanish company, makers of CelluRex assert that this product contains the highest concentration of Liporeductyl.
According to the company website, the product is allegedly composed of 10 active ingredients, which includes lecithin, caffeine, horse chestnut, carnitene and Vitamin C, which are useful in bolstering blood flow, strengthening vessels, encouraging the creation of connective tissues and restoring cell membranes, among other things. In order to get maximum results, the product is supposedly best used in conjunction with LipoWave, a device that is purported to have an effect against hard-to-reach subcutaneous fat, which is responsible for the appearance of lumps and bumps on the skin.
Benefits of CelluRex
An improvement in the texture of the skin is apparent in just a few weeks because of the moisturizing effect of Liporeductyl.
A company sponsored clinical trial showed that 50% of participants had body fat mass reduction and 85% had an average of one-centimeter reduction of thighs after using the product for 30 days. However, the participants of the study were only composed of 25 women, aged between 18 and 60. Hence, results can be deceiving.
Disdvantages of CelluRex
JabaLabs, the creator of CelluRex, is a relatively new player in the beauty industry.
The company is still unknown and does not have a reliable reputation when it comes to selling products that are truly safe and effective.
Independent reviews about the product are scarce on the Internet, which either means too few people have used it or those who have are unsatisfied.
In order to get the most of CelluRex, the company is selling an anti-cellulite device, LipoWave, for another $89.00. All in all, the whole system can be quite costly.
Based on only one clinical trial, only 40% of participants showed a one to two centimeter reduction in the buttocks area for 30 days. For a one to two centimeter cellulite loss, thirty days can be too long.
Final Verdict: CelluRex
For an anti-cellulite system that can cost a total of $159.00, CelluRex with LipoWave is certainly expensive. If the ingredients of CelluRex are really that good, then there should be no need for LipoWave. Worse, the product lacks clinical backing and adequate reviews. Basically, consumers who will spend for CelluRex will be buying blindly into the product's claims. Lastly, the 30-day waiting period before any significant change can be felt is too long. Bottomline, there are many too many unanswered questions about this product and certainly not enough answers that legitimizes the claimed performance of this product .
Cellulite refers to fat deposits under the surface of the skin giving it a dimpled, irregular appearance. The vast majority of women have cellulite, some estimates are as high as 90 percent. Cellulite is routinely found in the thighs, hips, buttocks, and stomach. Unfortunately, maintaining an optimal body weight, eating healthy, staying active, and even regular exercise may not be enough to combat cellulite. 
Below you'll find some of the most effective cellulite cream formulations on the market today, in our opinion.
Our Top Cellulite Creams Product
**This is a subjective assessment based on the strength of the available information and our estimation of efficacy.
*Results may vary. The information contained in this website is provided for general informational purposes only. No medical claims are implied in this content, and the information herein is not intended be used for self diagnosis or self trealment of any condition.
Disclosure of Material Connection: Some of the links in the post above are "associate sales links." This means if you click on the link and purchase an item, we will receive a commission Regardless, we only recommend products or services which we use personally and/or believe will add value to our readers. We are disclosing this in accordance with the Federal Trade Commission's 16 CFR, Part 255: "Guides Concerning the Use of Endorsements and Testimonials."