Chanel Precision
By
Chanel Precision
An exclusive review of Chanel Precision Product, Know more about Chanel Precision Product, its pros & cons on the beauty insiders.
Chanel Precision Overview
Chanel Precision Hydramax Active Serum and Moisture Boost provides skin the needed hydration to leave it feeling fresh and rejuvenated. True to Chanel form, Hydramax not only leaves skin moisturized it also encumbers Chanel's trade mark fragrance. Infused with hyaluronic acid, Hydramax users can apply foundation, or primer easily with out compromising application.

The Chanel Website is not user friendly. Other than the name, Chanel leaves the visitor ill informed when it comes to the product specifications. As can be expected there are no free samples or coupons. In addition the website neglects to provide the visitor with features that would be incentive to stay longer i.e. Online consultation, testimonials, etc. Instead the website lists the product name, a brief sales tagline, and then prompts the visitor to purchase the product and a host of other products that can be used in conjunction. I do have a concern with the web design. A person not familiar with this particular product (not the manufacturer) will not understand what the product is and how it can be of benefit in their daily regime.
Chanel Precision – Product Description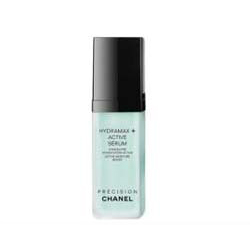 Chanel Precision Hydramax Active Serum and Moisture Boost is formulated to hydrate skin. Hydramax is effective in combating age and leaving skin moisturized. The key element in Hydramax is hyaluronic acid. The infusion of hyaluronic Acid leaves the skin hydrated, smooth, and refreshed. Unparalleled to any other natural substance, Hyaluronic Acid increase facial smoothness, and elasticity resulting in a decrease of wrinkles. When it comes to application of hyaluronic acid there are two methods. The first would be direct injections, which are both painful and expensive. And the second is topical is a topical application as used in Chanel Precision Hydramax Active Serum and Moisture Boost. Compared to the injections Hydramax is a fraction of the cost and void of physical pain.
Chanel Precision Hydramax Active Serum and Moisture Boost incorporates the power of hyaluronic acid to aid in hydration, and the iconic fragrance of Chanel.
Chanel Precision Advantage
The product is formulated and manufactured by Chanel a trusted name in cosmetics.
The product uses hyaluronic acid to increase hydration and elasticity.
Chanel Precision – Drawbacks
The product is expensive
When compared by consumers, the results were akin to store brands like Olay.
The website neglects to provide the visitor with any product specifications
The website was not engaging.
Chanel Precision – The Bottomline
Consumers who have reviewed the product appear to be equally unimpressed with the results. Most stated that Chanel Precision Hydramax Active Serum and Moisture Boost had no precedence over competitors like Olay. While there were some improvements, they were not significantly different than results achieved by store brands.
The use of Hyaluronic acid is the key component in providing skin the maximum hydration. There is one point that should be noted. There seems to be a consensus by all the product reviewers in regards to the fragrance. The reviewers overwhelming agreed that the fragrance of Hydramax was reason enough to purchase the product.
In conclusion, while Chanel Precision Hydramax Active Serum and Moisture boost results are not superior to store brands the product does provide the skin ample hydration and the unparalleled fragrance of Chanel.
Facial moisturizing products are in no short supply today, and this large selection might make the process of choosing the best moisturizer for your personal needs to seem a bit overwhelming. Fortunately, we've taken the time to research each of the top facial moisturizers on how they rate in several different key categories. More specifically, we believe that every quality moisturizer should provide the basic benefit of improving overall facial skin appearance, including both skin tone and skin texture. Additionally, a quality moisturizer should contain compounds that are capable of binding to collagen fibres in order to provide the most long term results. Finally, facial moisturizers should ideally be able to deeply cleanse skin at the same time that they moisturize it. Below is a summary of our findings regarding the top facial moisturizers and these key considerations.
Top Moisturizers Products
**This is a subjective assessment based on the strength of the available information and our estimation of efficacy.
*Results may vary. The information contained in this website is provided for general informational purposes only. No medical claims are implied in this content, and the information herein is not intended be used for self diagnosis or self treatment of any condition.
Disclosure of Material Connection: Some of the links in the post above are "associate sales links." This means if you click on the link and purchase an item, we will receive a commission. Regardless, we only recommend products or services which we use personally and/or believe will add value to our readers. We are disclosing this in accordance with the Federal Trade Commission's 16 CFR, Part 255: "Guides Concerning the Use of Endorsements and Testimonials."