Reading Time:
4
minutes
What is Chanique Cream?
Chanique cream is a procollagen anti-aging formulation that is used to fight wrinkles, fine lines and other signs of aging.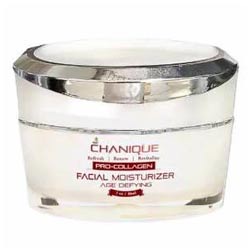 According to the manufacturer, this skincare product is richly infused with collagen-boosting ingredients that help fight aging signs.
The manufacturer recommends this product for anyone looking to rid their skin of wrinkles, fine lines, and other aging signs. As such, it can be used by both men and women.
Who is the manufacturer of Chanique Cream?
This skincare product is made by Chanique Creams Company. However, there's not much information on the manufacturer's actual location.
What are the ingredients in Chanique Cream?
According to the manufacturer, Chanique anti-aging cream is made of natural ingredients. However, there are no details alluding to the actual ingredients from the official manufacturer website.
From the Chanique cream container, the following ingredients are highlighted.
How does Chanique Cream work?
The manufacturer of Chanique cream indicates that this formulation is best for managing signs of aging. It's is infused with natural ingredients that ensure a radiant and youthful skin. It is said to eliminate wrinkles, fine lines, and dark circles instantly.
The anti-wrinkle formulation is said to have high skin adaptability properties, something that guarantees impressive results in the shortest time span.
It has Shea butter that moisturizes the skin keeping leaving it soft and supple.
Hyaluronic acid enhances collagen synthesis, a prerequisite for rapid skin regeneration.
Algae extracts detoxify and nourish skin with minerals and essential peptides keeping it young, healthy, and beautiful.
The Acmella flower extracts eliminate wrinkles, fine lines, and also minimizes contraction in subcutaneous muscles of the skin.
The manufacturer also suggests that Chanique cream boosts the body's immune system and counters effects of UVA & UVB radiations on the skin. Even with all these suggested ingredients and their working mechanism, a notable downside of this anti-aging cream is that the manufacturer hasn't provided much evidence to back claims of effectiveness.
Besides, their website has no information on the ingredients. It makes it hard for users to know what to expect before purchase.
What are the pros of Chanique Cream?
The manufacturer claims that the ingredients are all-natural and effective.
It is said to facilitate collagen synthesis for rapid skin regeneration.
It is said to have skin moisturizing properties, antioxidant properties, and also detoxifies skin.
The manufacturer insists that this skincare product facilitates skin elasticity and minimizes dullness.
It is said to produce rapid results in a few weeks.
What are the cons of Chanique Cream?
There's no evidence to support the manufacturer's claims of the product anti-aging properties.
Claims about the product's moisturizing properties are not verifiable.
It is not possible to ascertain the product's ingredients because there's no mention of product testing by independent labs.
It is very expensive
Is it worth buying Chanique Cream?
From the official manufacturer website, Chanique cream goes for $102.97. The cost is monthly recurring unless you cancel within 14 days of purchase. Honestly speaking, we think the cost is a little too high, given the fact that there are many other affordable and better performing anti-aging creams in the market today such as Kollagen Intensiv.
Our position is backed by the fact that it is hard to tell what ingredients there are in this anti-wrinkle formulation. Besides, it is also very hard to tell the exact location of the company.
Also, the manufacturer's claims of product effectiveness are not backed by evidence from third-party labs. So, at best, the assertions are wild and neither here nor there. The price is simply not worth.
Frequently Asked Questions
Q: What is the price of Chanique Cream?
A: To place an order, you'll need to pay a shipping and handling fee of $7.95. Together with the product price, you'll be charged $102.97 for this anti-wrinkle cream.
Q: Who should use Chanique Cream?
A: According to the manufacturer, Chanique cream can be used by both men and women looking to defy their age. Apart from children and ladies with skin conditions, this anti-aging cream can be used by people of all ages.
Q: How should you apply Chanique Cream?
A: Apply this skincare product per the manufacturer's instructions.
First, wash the face, then take sufficient Chanique cream onto your palm then apply on the face.
After applying, rub and massage the face repeatedly.
Repeat the steps daily for a maximum of 3 months.
Q: Does it have a money back guarantee?
A: Chanique cream has a 14 day trial period only available for those who pay $7.95 shipping and handling fee. Orders are typically delivered within 3-5 days.
After the first order, subscribers are enrolled into the auto-ship program that's billed monthly, unless one cancels within the 14 day trial period.
After the trial period, you will be charged $102.97 monthly for your package of Chanique cream. And that cost is billed automatically to your bank account.
Conclusion
If the manufacturer's claims are anything to go by, Chanique cream is such one great anti-wrinkle formulation you may want to try out.
For instance, it is said to boost your skins collagen synthesis. Reduced collagen production is responsible for most of the aging signs. So, the more you can produce it the better. The product is also said to be infused with antioxidants, moisturizing, and detoxifying peptides.
On the flipside, Chanique cream is sold for $102.97, which is very expensive when compared to other anti-aging products. There's no mention of the quality test by any third party lab. As such, it is hard to ascertain the efficacy of Chanique cream as an anti-aging product.