Brilliant Tips For Choosing Right Necklaces For Different Necklines 
Proper outfit pairings are not the only secret to being stylish. Wearing the wrong accessories can drastically ruin an otherwise good ensemble. On the other hand, if you know how to pick them right, accessories can pick up your style game in a snap of the fingers.
One of the challenges in using the right accessories is to find the appropriate necklace to use for your OOTD. Why? Well, necklaces come in different shapes, sizes, and styles. You have to factor in other details such as the occasion, the whole vibe of your outfit, and of course, your neckline of choice.
There is an art in choosing necklaces for necklines.You can't just settle on a particular necklace just because it looks cute or it seems to match the rest of your clothes. Imagine, would you go for a choker if you are wearing a collared top just because their designs match? I don't think so.
Related: Cute Spring Outfits -11 Perfect Spring Outfit Ideas to Copy Now
Basic Types of Necklaces
Just a quick overview of some of the most basic types of necklace according to length:
Chokers:
These are the shortest, usually only two to four inches more than a ruler. It sits high and securely around the neck. You can read more on how to properly wear a choker style necklace below.
Princess Length Necklaces:
These lie just a bit below the neck and rests near the collarbone. As the name implies, these necklaces are usually delicate and elegant in nature.
Matinee Necklaces:
These are usually about twice the length of a choker, 24 inches at most. These sit at the bust line.
Opera Necklaces:
These are a lot longer. For a more varying style, some women wrapped it twice around their neck.
Rope Necklaces:
These cover any length more than the 32 inches opera necklaces have.They are popular choices if layering is your thing.
Related: Latest Fashion Trends You Would Love To Follow in 2018
How To Choose The Right Necklace For Your Neckline?
First things first, knowing what necklace to wear with what neckline needs a full discussion and your total attention. When it comes to style, even the most minute detail can make a huge difference. This is probably the reason why a lot of women tend to fuss over their outfit to make sure they got it down to a T.
What Kind of Necklace Do I Wear With a V-Neck Dress or Halter Tops?
Styles you can consider for such outfit choices, is a Y shaped necklace with a pear or a crystal, beaded or pearly necklaces, Swarovski necklaces, and that sweet, classic necklace your grandma left you. Showcasing pendants is achieved in a V-Neck and halter tops or dresses. As a rule of thumb, the necklace should be of optimum length about two inches above the V of your neckline.
For fabulous cocktail dresses in halter and low back scoops, you can use a necklace that falls down all the way to the back. Trust me; you will immediately turn heads due to its added appeal.
Keep in mind that with a V-neck or halter neckline, repeating the shape can accentuate it and emphasize your cleavage.
What Necklace To Wear With Round Neckline?
Round necklines can be about T-shirt neckline/crew neck or scoop neck. These two necklines differ greatly. Crew necklines are round and sit closely to the bottom of the neck, while scoop neck is a bit more concave and sits a lot lower near the bust area.
Crew shirts or tops are better paired with a bib or a collared necklace. These necklaces complement the shape of the neckline and add more style significantly to an otherwise boring top.
Meanwhile, to fill in the space of your scooped neck top or dress, you can use multiple strands of beads or opt for larger scale pendants. For a more dramatic flair, chokers also make an interesting choice, or you can try an antique necklace such as the accessories Of Daenerys Targaryen.
What Necklace To Wear With Off Shoulder Dress?
Off shoulder, tops expose a lot of skin, but it gives you more room to come up with a necklace that can complete your look.The only no-no is to use a necklace that is too close to the neckline of your outfit. Chokers for a simple look and elaborate collar necklaces for a dramatic twist are both popular options for off shoulder dresses.
What Necklace to Wear with a Collared Neckline?
A large statement necklace with a nice focal pendant will really take off the masculine vibe collared necklines have. It will soften the look, making it more feminine. Opt for pendants that are not edgy. The goal is to make it appear like a bit of a brooch.
What Necklace to Wear for a Turtle Neck?
Turtlenecks paired with tight-fitting skirts is always an interesting classic look. Since the neckline does not give you too much to work on, your only option is to go long. A necklace style that is too short will only make you appear stiff. Create the perfect look by knowing how to wear a pencil skirt dress.
What Necklace to Wear with Boat Neck?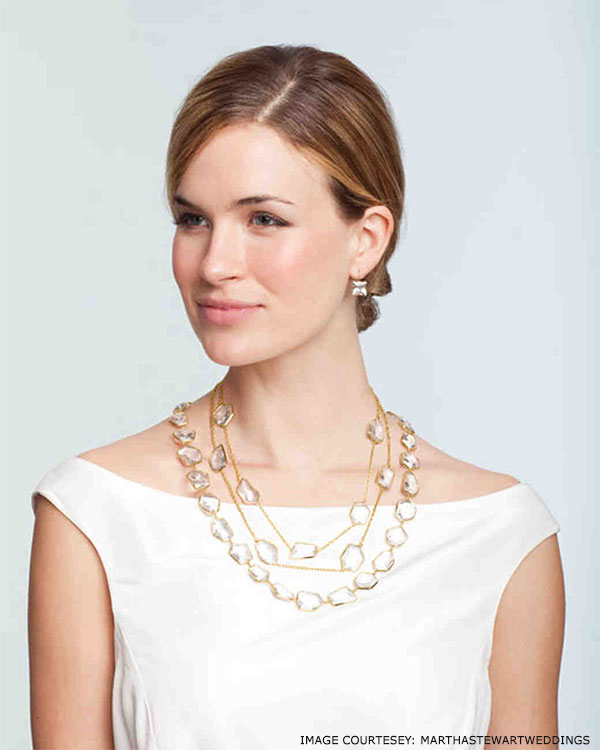 Boat necklines look best when paired with a single string or two of beads and other long necklaces.
What Necklace to Wear with a Cowl Neckline?
Since cowl necklines have already a lot of style going on, short necklaces with a small pendant are already enough. Keeping your look balanced is an essential to always looking fab.
What Necklace to Wear with a Square Neckline?
Square necklines place attention towards your neck, so whatever necklace you choose may become the center of the attention. Chokers are great choices, especially those that come in multi-strands. Single or double strand necklaces are safe choices. While lockets are now back in style and are perfect options for making a statement.
Conclusion:
Apart from knowing which necklace to choose for whatever neckline, you also need to know about other stuff relating to accessories, such as knowing the best ways to match your makeup to your accessories. Bear in mind that if you always want to look extra, you got to put in extra effort.