16 Christmas Party Updos Inspired By Your Favourite Celebrities
Advertising Disclosure

?
Now that the holiday season, one of the most anticipated seasons of the year, has finally come, everyone is filled with the Christmas buzz. While most are preparing decorations, food, and gifts to their loved ones, some of us are concerned about looking our best to see our friends and family during this festive season.
Christmas parties and reunions are coming, often with only a few hours or days in between. And one of the challenging parts is finding the Best Christmas party hairstyles to complete your Christmas outfits. In my experience, it really helps to have several ideas in mind before you go to your hairdresser or get ready for important events. So, to save you a lot of energy, time, nerves, and frustration, here are 16 of the best Christmas party updos inspired by celebrities.
What are 16 Christmas Party Updos Inspired by Celebrities?
Our favorite celebrities and their hairstylists often come up with the best and coolest elegant updo hairstyles that are not only perfect for holiday gatherings but can also be easily pulled off by normal people like us. They aren't too complicated either! With just a touch of creativity and minimal effort, you can try these easy holiday hairstyles that will make you look like a star. Read on to find out how to make updo hairstyles that will pull everybody's socks off.
Related: Half Updo Hairstyle: Creating Your Own Fabulous Look
1. Cascading Waves
This first hairstyle is one of the easy ways to make an updo. It will work best for medium-length to long hair with layers with one length. Apply texturizing spray and allow to dry. Put your hair in a loose ponytail at the crown to show its natural texture and secure with an elastic. Then, grab a section of the ponytail and create a loop by pinning the ends to the scalp. Repeat doing this until all sections in the ponytail are looped. For some nice bangs hairstyle inspirations, gently pull a few tendrils or your bangs to frame your face.
2. Easy Party Updo for Layered Hair
This next hairstyle is classy and elegant but also requires almost no time at all to do. For the updo medium hair tutorial, just grab a section of your hair from the front of your face, twist, and secure it to the back with pins. Gather all the sections in a volumized almost-bun at the back of your head, and you're done! For a cleaner look, make sure to neatly twist your hair on the areas nearest to your face.
3. Celebrity Side Bun
This is a common hairstyle that you see in celebrities such as Scarlett Johansson, Natalie Portman, and Jenifer Lawrence in several red carpet events and awards nights that also doubles as one of the best easy holiday updo hairstyles. It can be done by simply combing your hair to one side and twisting it up to a bun behind your ear. No wonder celebrities choose this particular hairdo all the time! It's so easy and classy at the same time.
4. Braided Messy Bun
Wondering how to style thin hair to make it look thicker? Miley Cyrus looks dashing in this messy bun created by curling her hair and then pulling back some sections into a messy bun, leaving some side pieces hanging. Then, these side pieces were braided and pinned together with the bun. If you put bobby pins randomly on the bun, this will create a loose, soft, messy texture. This is one of the best updos for thin hair.
5. Simple and Elegant Ponytail Wide Side Bang
We often see Jennifer Aniston wearing this great highlighted hair updo. Simply put all of your hair in a high ponytail and let your bangs, if any, hang loose. Pair it with simple makeup and an elegant dress or black suit for a comfortable, sophisticated look!
6. Messy Top Bun Twirl Hair Updo
Create Heidi Klum's messed up high updos by teasing and spraying a thickening and volumizing mist on your hair. Then, make a high ponytail and divide it into two sections. Wrap these sections around each other, twisting and pinning as you go. Let a few hair strands loose to frame your face.
Related: Messy Buns Of Celebs
7. Sculpted Double Knot Twists
If you ask me about what hairstyle make you look younger, this is definitely on top of my list. Hailee Steinfeld looks absolutely gorgeous and smart with this double knot that looks like a real work of art. To do this, gather your hair in a tight ponytail and twist and turn it until you get your desired twisted knot. Just a little heads up: you'll need some wax, hairpins, and a ton of hairspray. Note, however, that these are not great hair products for oily hair.
8. Double Braided Updo
Perfect for a family gathering or an outdoor get together party, this double braided updo on Rachel McAdams is very easy to do. Just separate two sections of your hair from one side and braid these close to the scalp. Secure with elastics and incorporate the hanging ends into a low bun. For an extra pop of color, attach floral hair clips or other Christmas hair accessories that match your lipstick shade.
9. Windblown Updo
For an edgy and stunning look, try this gelled updo on Scarlett Johansson. Apply curls or waves on your hair and sweep them up carefully by the sides, securing them with lots of holding hairspray. This 'do will definitely make an impact and is sure to last all night. Click here for tips on how to care your hair in winter.
10. Braided Twist
To create a dramatic, chic profile, put your hair up in a large braided updo like this one on Rachel Weisz. Finish the look with a pair of beautiful earrings. Check out other articles on this website for more tips on how to do easy braided updos.
11. Laid Back Bohemian-Chic Braid
Whenever I'm left wondering how to find a hairstyle for my face, I always end up going for different braids. For this hairstyle donned by Jessica Simpson, braid your hair down one side and secure with an elastic. Create a messy finish by pulling the braid edges to make them wider and a little uneven.
12. Sophisticated Low Chignon
Here, Emily Blunt looks expensive and sophisticated with a low chignon hairstyle. This was done by brushing her hair back into a low ponytail and twisting it on itself to get the perfect chignon bun. Then, you can secure the bun using hairpins and hairspray. This is one of my go-to Christmas holiday hairstyles.
13. Teased High Bun
If you have large, fluffy hair, this hairstyle by Janet Jackson is perfect for you. Just gather all your hair and put it up in a big high bun that puts top knots to shame.
14. Rose Bud Bun:
If you prefer cute, feminine, and classy celebrities updo hairstyles, try Chloe Sevigny's rosebud bun that will make you feel like a prima ballerina. Gather your hair in a low ponytail, wrap it around itself and secure the end in the middle.
15. Crown Braid: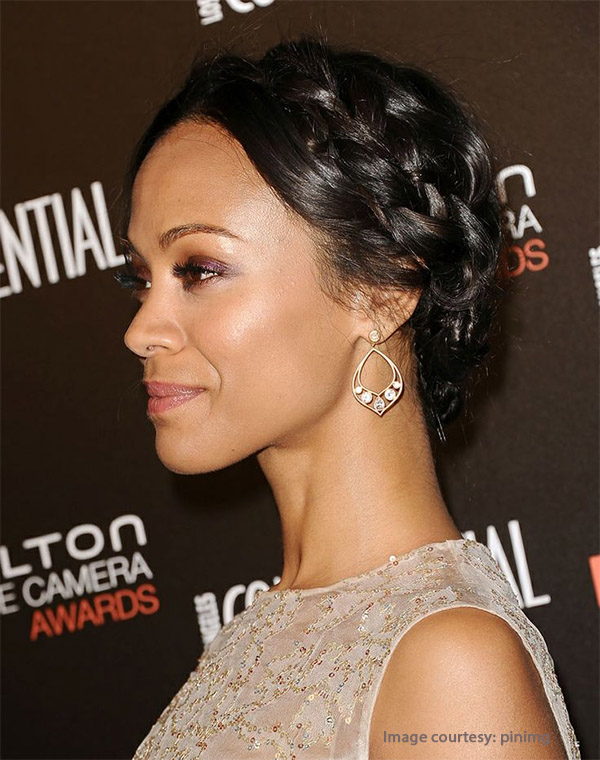 While most people are getting tired of updo with headband hairstyles, crown braids are one of the hairdos that will probably never go out of style. For Zoe Saldana's Swiss-inspired crown braid, just part the front section of your hair in half, do a long braid with your hair and wrap this around your head. Leave your bangs out of the braid to frame your face.
16. Carefree Chignon
If you have naturally curly or wavy hair, you can create a chignon like this one on Kate Hudson by sealing your hair texture with a curling spray, loosening the curls with your fingers, and pulling it into a messy bun. Pull at the sides to volumize the hair and use hairpins to secure your hairdo. A tip on how to do finger waves updo is to use products that emphasize your natural hair texture.
Conclusion:
Looking for a great hairstyle for Christmas parties should not be too hard. Aside from maintaining healthy hair care habits, you should also consider the hairstyles and products you use. With these celebrity inspired hair updos, you will surely turn heads in every event and gathering you will be attending festive makeup ideas for Christmas.